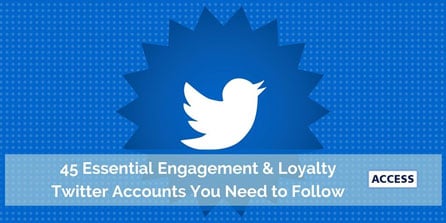 Twitter is pretty great. Within a matter of minutes, you can get the latest news, sports, opinions, memes, advice, celebrity junk, and more. Ever wanted to chat up Russell Crowe, Pope Francis, or the drummer from Kings of Leon? They're all there!
It has great business applications as well. It's a quick way to reach a crowd or get connected to powerful people.
And as useful as Twitter is as a broadcasting and connection tool, it's even better for reading and learning. Over the course of our time on Twitter, we've found a handful of people who are shaping the customer engagement and loyalty landscape. These are the people who are creating the smartest content, or the ones finding it and sharing with everyone else.
Some are individuals, some are corporations. Some send out what feels like 300 tweets a day, others only tweet here and there. Either way, we think they're worth your time.
Disclaimer: This isn't a ranking list. All of these folks are great, and listed in no particular order.
Follow them all!