As we've mentioned a few times, we love the merchants on our discount programs. We asked some of our employees to chime in on some of their favorites. Today, Director of Partnership Marketing Doug Jentzsch chimes in with a meaty tribute to Utah's own Braza Grill. Read more of Doug's writing and thoughts at his personal blog.
There was a time when you could only experience an authentic Brazilian steakhouse, or churrascaria, when visiting cities like Los Angeles, Dallas or Miami – or by traveling to Brazil of course. More recently these steakhouses have become far more common. The greater Salt Lake City area now has four different Brazilian-style steakhouses; of these Braza Grill in Murray is what I would consider the best and most authentic in Utah.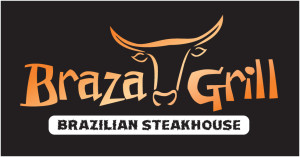 Braza Grill offers a variety of meats, cooked over an open flame. This includes top sirloin, tenderloin, sausage, chicken and the ever popular turkey wrapped in bacon. To bring out the flavor, meats are seasoned simply with rock salt. Meat servers use large skewers to carry the meat around to each table slicing off the perfect portion for each customer. A salad bar in the middle of the restaurant features traditional rice and beans, a staple of the Brazilian diet, along with potato, pasta and green salads.
For those feeling a bit daring, ask your server to try the chicken hearts. There is no additional charge and chicken hearts are prepared upon request. Squeeze a little fresh lime over the top and you'll be surprised how good they are.
The friendly staff, the atmosphere and food at Braza Grill takes me back to the time I spent in Brazil. It's a unique dining experience where you're guaranteed not to leave hungry. Braza Grill is a featured restaurant in the Zions Cash Rewards program. Zions Visa cardholders can earn a $6 reward with minimum purchase of $20.
Read the rest of our "Brands We Love" series here.