For over two years now, Access employees have begged HR Director Gina Yoder to buy a smartphone with a data plan. Despite being into modern technologies (follow her on Twitter here), she was reluctant to jump into the modern mobile world. Until now. We asked her to give an instant analysis of mobile life, specifically our mobile coupon app My Deals Mobile.
Three weeks ago, after years of ruthless heckling by colleagues, my son, most of my friends, everybody in the IT department, and even my mom, I finally bought a smartphone with a data plan!
Half a day with this technological marvel and I felt more connected with the world… smarter… modern. Now that I looked uber-contemporary (to anybody gazing upon the shiny piece of technology clipped to my hip and not my gray hair), I wanted to look smart and savvy, too. For the past two years, I've encouraged everyone I know to save money with the My Deals Mobile app…secretly feeling a bit like that lady who has lots of parenting advice, but doesn't actually have any kids of her own.
I finally got a chance to use My Deals Mobile. Holy wow.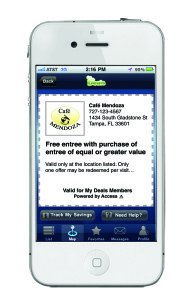 It moved me so much, I chided the one person I know who still lives without mobile data. "You have to lug out your laptop and plug into a printer for a restaurant coupon? Bummer. I remember when getting discounts was that cumbersome for me, too."
When it comes to using coupons, being old school is awful.
It really is easy. I searched for, found and downloaded the My Deals app (all by myself, which is no small feat—just ask the Help Desk guys at my office). I registered. I opened the app, chose an offer from Penny Ann's Café, showed it to the server, and got my free beverage. It was that easy. I saved money with just a couple of clicks.
My only regret is not doing this sooner!
I have conquered mobile technology. So what's the next challenge for a modern woman? Create a robot hound?