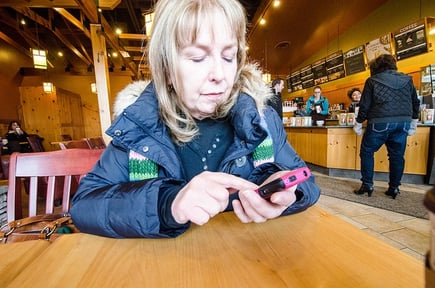 There are at least five houses in your neighborhood that still have their Christmas lights hung and glowing. Some of these houses probably still have the tree up even.
It's February, but for these homes, the holiday season is still roaring. It's easy to imagine the stockings are still hung by the chimney, there's a ham roasting in the oven, and a fresh batch of cookies and milk are left out nightly.
Or not. Most likely they just haven't gotten around to taking the thing down yet, just like the outside Christmas lights. Instead of cookies and milk, the only thing that comes out nightly is the argument about who's responsible for actually getting off their butt and putting all the junk down.
Let's go with the optimistic view that those houses are still just basking in the afterglow of a successful holiday season. And we're going to side with them, as we briefly look back on what, for most, was a successful end to 2015, as well as what we see as the big takeaways brands can learn from it.
If you recall, waaaay back in November we collected an assortment of predictions about the holiday season. It covered everything from how much we would spend to how crowded parking lots would keep people from going into brick and mortar stores.
We don't have hard data on how some of those more granular predictions turned out, but we're going to use those original predictions as measuring sticks to see exactly what happened during the 2015 holiday spending season.
First the data, then three big takeaways every brand can gleam from the 2015 Holiday Shopping Season.

Overall Spending
Prediction: An increase in spending was predicted by most, ranging from 2.4% to 5.7%. On the high end, that's around $885 billion.
Result: The forecasts were a bit optimistic, but no one seemed to predict a 3% decline (to $626 billion), as NRF reported. The Commerce Department said December saw the biggest decline in household purchases in five years. Mastercard disagreed, saying U.S. retail sales rose 7.9% between Black Friday and Christmas Eve.
Black Friday/Cyber Monday
Prediction: Most also saw an increase in spending on these two days, around 2.4% on Black Friday and 2.9% on Cyber Monday.
Result: Black Friday sales declined by over $1 billion. On the whole, much of the loss was felt in-store, as brick and mortar sales declined from $12.9 billion to $12.1 over the course of the Thanksgiving weekend. There are still plenty of people willing to wait outside in the cold for an early morning sales stampede, but a growing number are choosing to stay in their jammies and browse the web for deals - online spending on the weekend grew over previous years, totaling $4.5 billion.
While overall Black Friday sales sagged, online spending on the day rose by 14%.
Cyber Monday fared a little better. Adobe said sales rose to over $3 billion, a number comScore confirms. In fact, Cyber Monday 2015 was declared the biggest online spending day ever, and sales on that day have increased six years running.
As much emphasis as we put on these two days, Thanksgiving is growing rapidly to become almost as significant, according to Business Insider. Another source says more people planned to shop on December 26 than Black Friday or Cyber Monday (66% vs 45% and 47%, respectively)
In-store vs Online vs Mobile Spending
Prediction: Typical predictions for in-store shopping were that it would see declines of around 7-8%, with that spending heading toward online and mobile.
Result: These predictions were spot on. In-store purchases are still the overwhelming preference for most consumers, but online and mobile commerce is growing quickly. According to one analyst, ecommerce grew by 8% during the holiday season, bolstered by a 50% increase on smartphones. comScore places the total at $69.1 billion, a 13% jump from 2014's $61.3 billion, with $12.7 billion coming from smartphones alone.
According to Adobe, total online spending reached $2.74 billion on Black Friday and $1.73 billion on Thanksgiving, for a total of $4.47 billion, up 18% from 2014. 33% of that came from mobile devices, an increase from 27% in 2014. Leading up to Thanksgiving, 46% of online retail visits came from mobile devices, generating $6.3 billion in sales before the holidays even kicked off.
IBM stated that 31% of all online sales came from mobile devices, an increase of 46% from 2014. 15% of Cyber Monday sales - around $313 million - came from mobile devices.
IBM also noted that smartphone shoppers spent $107.33 per order, less than their desktop ($134.87) and tablet ($131.88) counterparts.
Three Big Takeaways
Mobile and online shopping have to be taken seriously, but in-store still rules.

It's easy to get caught up in the growth and excitement around mobile, and it's critical that brands have a presence there, but the vast majority of people still prefer to go to a physical location when it comes time to make a purchase.

The bigger takeaway for mobile is its influence. Mobile traffic accounted for over half of all internet traffic through November and December. That means people are actively researching, shopping, digging for

mobile coupons

, reading reviews, downloading apps, posting to social media, showrooming, and everything else brands need to be in the thick of.

The in-store experience is driving people away.

Several holiday consumer surveys noted a strong desire to avoid crowds and lines, not to mention ornery associates. It should be seen as an opportunity - what can merchants do to alleviate these concerns ? A closer integration of the online and in-store experience is needed - in-store pickup of online orders is growing in popularity for example. Associates need to be more knowledgeable about the products, not to mention more friendly to consumers (appropriate levels of staffing on high volume days are a good way to start).

People are also shopping earlier, prodded by an ongoing array of discounts.

Whether it's Amazon Prime Day or just retailers jumping the gun in early November, people have their deal hunting antennae out year-round now. A

smart couponing and discounting strategy

is more important than ever, as is the collection and use of personalization.

Loyalty programs

,

premium incentives

, mobile apps - it's on each brand to find ways to convert customers, collect data, and use it to build year-round, ongoing engagement.
Miscellaneous Learnings
Here are a few other interesting tidbits from the season:
(Image courtesy of m01229)