Brandon Carter
Eight Real-Life Examples of Businesses Going the Extra Mile to Win Customer Engagement and Loyalty
Do me a favor. Take off your business hat, and replace it with your consumer one.
Done? Good.
Now, think for a moment about the brands and businesses you know and trust. How did they earn your devotion?
Was it due to some complicated, multi-tiered loyalty scheme? Perhaps a multi-million dollar branding campaign?
Probably not.
It was something much simpler.
We're betting most of them delivered a good or great experience at the proper value.
And most of these companies you love offer a little something extra. Something different. Something personal. Something that makes them stand out from hundreds of other transactions you've had over the years.
Now, put your business hat back on.
Welcome back!
What's your business doing to be different? What are your personal touches?
Looking for inspiration?
We found eight real-life examples of companies that are delivering more value than their customers expect. These are businesses intentionally going out of their way to deliver more than just a simple transaction.
Take a look, and see if you find an idea that may just resonate with your customers:
---
Every new customer gets a full-sized Lindt chocolate bar and thank you for using us note left behind on a countertop near their front door.
You can imagine the reaction when they come home and receive this gift from their cleaner.
Our repeat business from one-time cleanings has gone up about 12% ever since we instituted this tactic.
Some of our customers even call us right back to thank us for the thoughtful gift.
Sean Desilva, Owner, Every Last Spot
---
A note goes to our Amazon buyers from me, the CEO, personally checking on them to make sure they love Handsocks as much as we do. I also send a separate
note if they return them, trying to find out if I can make their experience better.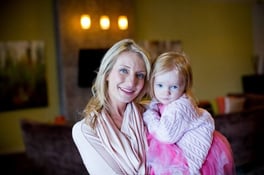 My goal is just to make sure everyone feels like they matter, because they really do, and to make sure they still have a positive experience if they bought the wrong size or have a question.
We also decided that this year we would name each limited edition collection of Handsocks after a real little person and we started collecting stories. We'll launch the first 6 prints in February but will have 8 more coming throughout the year. Each mitten print will be tied to the story of an actual child. No purchase necessary.
We're trying to celebrate the lives of children and provide encouragement and happiness to families. This will be a fun way for us to connect with the Handsocks community.
Casey Bunn, CEO, Handsocks
---
The business is Fitpacking. We take people on backpacking adventure vacations to get fit and lose fat.
We bring coffee or hot chocolate to our customers' tents when it's rainy or cold in the morning. Big deal right?
But people are consistently grateful when a hot beverage shows up at their door on a miserable morning.
As an aside, well over 40% of our customers have previously been on trips with us.
Steve Silberberg, FitPacking
---
Once your company has a list of its top influencers, a great way to build your relationships is to provide personalized discounts through emails or phone calls.
This experience should be extremely personalized and not sent through an automated email campaign. People love to receive hand written emails and it will show dedication to your client base and keep the emails out of the spam folder.
Companies can take this a step further by creating a VIP access webpage that is only accessible with a password.
Not only does this cultivate a VIP experience, but if you make the discount a social deal, this person will not only bring a friend in on his or her next company interaction, they will have to explain why and how they received the discount, thus creating an excellent word of mouth marketing campaign.
Evan Harris, Co-founder, SD Equity Partners
---
Every time a customer makes their first purchase with us - regardless of whether it's big or small - we include some free goodies with their order.
Recently we've been sending free hi viz vests to our customers to remind them to be safe at winter, but we've also sent items like adhesive and small boxes of screws in the past.
The response that we get from our customers when we do this is great, and almost always results in a kind message!
We always pick items that we can afford to give away for free, and try to change them regularly.
Max Robinson, Fish Tank Bank

---
When a homeowner signs up for our service we gather information on if they have pets, and if so what are their names. We do this so our lawn vendors know to be careful when entering the lawn.
We decided we could use this info about our customer to send a personalized gift to our customers' pet, addressed to them.
This really wowed our customers, we received personal thank you notes, videos of their dog chewing the bone we sent posted to FB and thank you tweets, it worked really well for the time and money we invested.
Bryan Clayton, CEO, YourGreenPal
---
When the toner low sign flashes on my laser printer, I pulled the cartridge, shipped it to Toner Service, Inc. and within 48 hours got a refurbished cartridge for about half the cost of a brand new toner cartridge.
A personalized form letter accompanied the returned laser cartridge. But one letter contained a handwritten P.S.: I'll bet you're real proud of those Cowboys!
At the time I lived in Dallas and the clerk or packer or someone noticed my business address and scrawled a little "value-unique" to the letter.
Chip Bell, customer service authority and author of Kaleidoscope
---

Do More Than Just Sell
Like we've said before, there are literally thousands of businesses out there who are content to have simple transactions.
Customer buys, customer leaves. Hopefully customer will come back if things go well.
That's good enough for some companies, but there's a big opportunity out there for those who do things differently. Even if it's only slightly different.
You don't need a big budget.
Heck, you may not need a budget at all. A personal note doesn't cost much beyond postage, right?
Do something. Try something. Dare to stand out and be memorable, much like these eight businesses.
All you stand to gain is more engagement and repeat business.
Topics: Customer Engagement
Brandon is a former writer and marketer for Access Development. He's a frequent blogger on customer and employee engagement & loyalty, consumer trends, and branding. Connect with him on LinkedIn or Twitter at @bscarter