Michelle White
Magic Awaits: How To Help Members Prepare for a Safe Visit to Disney Parks
Summer vacations certainly didn't pan out this year like we all envisioned.
Most Spring Break travel was re-routed to the back yard as the entire country canceled their travel plans and hunkered down to control the spread of the dangerous coronavirus.
And not even the happiest place on earth was immune.
Disneyland® Resort closed its Anaheim, CA gates for only the fourth time since the park opened. Walt Disney World® in Orlando, FL had closed a few more times due to impending hurricanes but each of those closures lasted only a day or two. These multi-month park closures for COVID-19 have been nothing short of historic.
And while many Americans may not be ready to venture too far away from home just yet, at some point, people will indeed be ready – and eager – to travel again.
For companies like us here at Access who like to encourage our employees to get out and unplug, we're looking forward to that day. We're one of the select few who gets to partner with Disney to offer highly-exclusive savings so members can experience more magic for less.
So, if you've got members who are toying with the idea of heading to America's happy place, they'll be pleased to know that Walt Disney World is ready when they are. All 4 WDW parks and Disney Springs are officially open. Cast members are picking up right where they left off delivering magical moments to their guests with enhanced safety measures in place.
How is Disney Preparing for Guests During the COVID-19 Outbreak?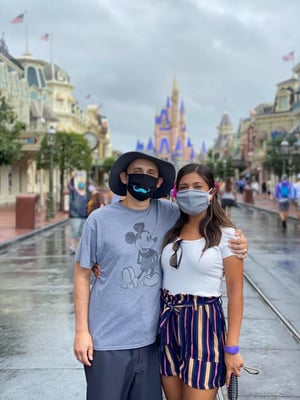 Disney is pulling out all the stops to ensure their guests are as safe as possible during their visit. To begin with, they're managing attendance through a new theme park reservation system that requires all guests to obtain a reservation for park entry in advance. Guests do this by:
In addition, guests can expect masks to be required, temperature screenings, enhanced cleaning processes, physical distancing and reduced contact with cast members during their stay. For more details about Walt Disney World's improved health and safety measures, visit their website here.
New ticket sales and Annual Passport sales and renewals for Disneyland® Resort in California are temporarily paused until further notice. For the latest updates on Disneyland re-openings and ticket sales, go here.
Aside from additional protective practices, just what can guests expect when they do take a trip to their favorite Disney park? Entertainment. And lots of it.
What's New At Disney Parks?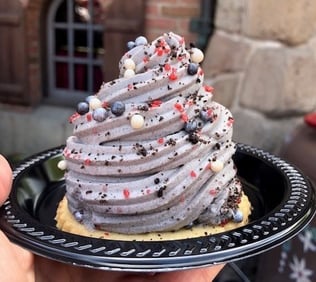 Prior to park closure in March, I was lucky enough to sneak in a visit to Disneyland® Resort with my family and friends. I've visited Disney Parks more times than I can count. I even completed the Walt Disney World College Program when I was in college. Yet this time brought several new and enchanting experiences – as all trips to Disney parks tend to do. For one thing, I tried the grey stuff. (It was delicious). And I finally got to ride Guardians of the Galaxy – Mission: Breakout! It. Was. Awesome.
I also joined up with fellow aspiring Jedis in Star Wars: Galaxy's Edge, a 14-acre land devoted to the popular science fiction franchise. The new Rise of the Resistance ride was unlike anything I've ever experienced.
And after 15 years, my personal favorite attraction from Magic Kingdom in WDW, Mickey's PhilharMagic, made its way to California. In this 4-D experience, Donald Duck clumsily guides guests on a thrilling journey through classic Disney movies.
As for the treat of the trip, that award goes to the Pixar Pier Frosty Parfait from Adorable Snowman Frosted Treats in Disney's California Adventure. It's a non-dairy lemon soft-serve with blue raspberry slush that was every bit as yummy as it sounds.
This year, WDW guests will have the opportunity to participate in Disney's longest International Food & Wine Festival ever at EPCOT®. Scheduled to run through the fall season, guests can venture across six continents and beyond to sample mouthwatering delicacies from over 20 destinations. On top of the delightful food and wine, there will be plenty of entertainment for the whole family, including the return of Remy's Ratatouille hide & Squeak scavenger hunt, the merry Mariachi Cobre and the JAMMitors drumming crew.
Regardless if you're ready to hop online and buy tickets today or are waiting a bit longer to schedule your getaway, rest assured that there'll be plenty of magic waiting inside the Disney gates when you show up.
How To Disney Like a Pro
Whether you're most excited to visit Batuu, Radiator Springs or anywhere in between, here are 5 tips to help you (and/or your members) make the most out of your stay.
Download the app. Both Disneyland and Walt Disney World have their own mobile app to streamline your entire experience. Within the app you can access your ticket, make and change dining reservations, play games in line, shop for merchandise and more. Bonus tip: since you'll likely be referring to your smartphone often throughout the day, it's not a bad idea to throw in a portable phone charger to keep your battery juiced.
Locate Baby Care Centers. If you're bringing miniature mouseketeers along for the vacation, be sure to take advantage of the Baby Care Center. Though each is slightly different, all of the Disney parks contain one. The space is devoted to the basic needs of babies and toddlers. Most have changing tables, tiny toilets, purified water for bottles, highchairs and private stalls for breastfeeding or rocking a baby to sleep. They also sell common items like diapers, wipes, baby food, bottles and formula.
Utilize mobile dining orders. Disney has made it even more convenient for its guests to grab a bite to eat with the ability to place orders at select locations within the mobile app. Guests place their order and designate a pickup time so they know right when their meal or snack will be ready. In addition to helping avoid long lines, mobile ordering limits contact between cast members and guests providing a safer dining experience.
Save big with good neighbor hotels. – If you're looking to stretch your budget, one of the best opportunities to save is through your hotel accommodations. Disney resorts come with perks but the cost may not always be worth the benefit. When weighing your options, consider one of the conveniently located hotels just off Disney property. Access members can save even more with extra-deep, exclusively discounted hotel rates.
Know the schedule. Most people visit Disney parks with at least a few attractions in mind they'd like to experience before the day is done. One of the best ways to make sure you get everything in is to coordinate with the day's shows and main events. Spots tend to fill up early and may have restrictions to help guests safely distance from one another. The show schedule is accessible in the app or on paper brochures throughout the parks.
Faith, Trust and Pixie Dust All the Way Home
2020 is shaping out to be a year unlike any other with COVID-19 lurking around every corner. Important decisions regarding work, school, travel and more will vary from family to family. For those interested in getting away for a much-needed break, a Disney park may indeed be the way to go. And more often than not, people return home from America's happy place with lasting memories and a little extra pep in their step.
To learn how you can hook your members up with discounts to Disneyland® and Walt Disney World®, contact your friendly neighborhood savings team here at Access to discover more about America's best discount program.
Topics: Customer Engagement, Discount Programs, Member Benefits, member retention, disneyland, discount program, member engagement, walt disney world, Membership Organizations, loyalty programs, member loyalty, membership discounts, member travel benefits, Disney, Disney Parks
Michelle White has held a variety of roles with Access over the last 15 years that focus on both member and employee loyalty. She loves books, the piano and peach snow cones.