Kendra Lusty
Cash Back Rewards: Add Some Green to Your Member Acquisition Strategy
Scratch. Bills. Buckaroos. Smackers. Dough. Green.
No matter what you call it, there's just something about cold hard cash.
People have more appreciation for items they purchased with cash rather than credit, according to psychologists. Hollywood loves to show suitcases full of benjamins or handfuls of dollars raining down in slow motion. And what school kid doesn't dream of catching a leprechaun and claiming its pot of gold?
The allure of cash is strong.
And the same holds true in the world of member benefits and customer rewards. There's just something about cash back rewards that brings customers back again and again.
If you aren't offering cash back rewards, maybe it's time to add some green into your marketing strategy.
What Are Cash Back Rewards?
Cash back rewards are pretty much just like they sound. A customer buys an item or service on the promise that they will receive a portion of the purchase price back.
Cash back has long been a staple of the credit card industry, with 1% cash back rewards on all purchases charged to the card being the standard for many years.
But this method of rewarding customers has been growing rapidly in recent years, and creating new ways for members to earn cash back. There are over 200 cash back companies around the world, with around a quarter of those based in the US. Some companies like Rakuten (formerly Ebates) facilitate cash back offers between brands and customers shopping their websites online. This site alone generates billions of dollars a year. Others like Ibotta tout cash back as the new way to coupon, with rebates on items purchased at grocery stores.
Part of the power of cash back rewards is in how the customers perceive them. While essentially, $5 off and $5 cash back after paying full price mean the customer ends up paying the same price, cash back is perceived as a reward for being a loyal customer. This is a valuable communication for a number of reasons. For example, it tells your customers how much you appreciate their business and it gives you an excellent reason to contact them again after the point of sale.
Cash back rewards hold an extra level of appeal to customers.
Now is a great time for many organizations to add cash back rewards to their customer acquisition and retention plans. Here are just a few reasons why. For one thing, new technology is continually improving methods to promote and execute cash back promotions. For customers, this means earning & burning will only get quicker and more seamless as time goes on.
At the same time, more and more brands are getting on board with offering cash back promotions. For associations looking to partner up and offer merchant-funded rewards, this means it's easier than ever to offer benefits that give members extraordinary value without an extraordinary price tag.
Cash Back Rewards Programs vs. Traditional Points Models
Points models have long been a staple of loyalty programs. Statistically speaking, you are probably a member of quite a few of them yourself. These loyalty programs offer members the chance to earn points (which might be called miles, bucks, credits or just about anything) which they can save up until they have enough to redeem for rewards.
These types of programs have decades of history to draw upon and yet they still face many of the same challenges they always have. And as a result, they're great at sparking initial interest, but struggle to keep interest high. In fact, there are an estimated 3.8 billion loyalty program members in the US, a number that has been growing by 10% a year for 8 years. However, more than half are inactive Why? Far and away the most common reasons reported were that it takes too long to earn enough points to redeem for a reward (57%) and there were not enough rewards of interest (53%).
Obviously, value is key to a member's interest in a loyalty program. Unfortunately, businesses with points based models are limited in how much value they can offer. That's where cash back rewards come into play. When partnerships involve affiliate deals—or even better, unique opportunities with huge reward potential like Travel Cash Back—the value can really soar.
Innovations within the cash back rewards structure seek to address those challenges and come up with solutions.
The Value vs. Cost Challenge
Rewards programs are quite expensive to run. Not only are there administration and operations costs, most of the time the rewards themselves are funded by the program provider (the business which offers the rewards to its constituents).
Obviously, businesses want their programs to be as valuable as possible in order to be relevant to members. However, the higher the value, the higher the cost. It's a balancing act that requires businesses to sometimes make hard decisions, like devaluing points when costs grow beyond the return on investment. Big businesses like American Airlines and American Express, VISA and more have had to devalue their points, and because of current market conditions (like inflation, rising costs and the effects of COVID-19) this trend will most likely continue in coming years.
To make this even more of a challenge, program providers must have funds on hand to pay out whenever a member decides to burn their points. Accounting departments everywhere put a lot of effort into tracking this accrued liability in order to avoid surprising (and painful) expenses.
Cash back addresses the value vs. cost challenge by offering the chance to work with merchants to help fund the rewards. Since merchants often treat cash back rewards as an alternative to coupons, they can offer the price difference as a reward. Businesses that partner with these merchants can offer the reward as a perk for being a member without having to fund the rewards themselves.
Plus, they can take this even a step further. Many partners are able to set up revenue sharing, where part of the reward goes to the member, and part to the program provider. Members still earns a larger reward than they could expect through a points program, and instead of costing the provider, this kind of cash back setup can actually help offset the loyalty program costs.
The Immediacy Challenge
One side effect of offering lower value points is that it takes longer for members to accrue enough to earn even the lowest value reward, sometimes months or even years. Is it any wonder that 28% of people leave rewards programs without ever making a single redemption? More importantly, does that really drive the kind of loyalty you're looking for when offering a rewards program? The answer is a resounding no.
The consensus among loyalty program providers is that the faster you can get members to that first reward, the more likely they'll stick around to redeem again.
Cash back addresses the immediacy challenge by removing the need to "save up" rewards for long periods of time. When the rewards are more valuable, they take much less time to accrue meaning members can cash out more often.
Cash back also provides the capability to push the reward right to the card the member paid with within days. That's money they can use right away, and with no extra steps or hoops to jump through.
Plus there's beauty in simplicity. Cash back rewards are simple, with a high "get it" factor that doesn't take a manual to explain to members.
The Relevance Challenge
The second most common reason for members to abandon a loyalty program is because they see nothing of value to them among the possible rewards. If members have to choose from a limited selection of gift cards, low-value objects, digital content etc., any feelings of loyalty earned can be alarmingly forgettable.
On the other hand, when the end goal is engagement, you want to offer rewards with an emotional impact that will stick around for a long time.
Cash back addresses the relevance challenge by making the reward possibilities endless. After all, people can spend their cash any way they choose. Plus, by partnering with merchants, you'll also be offering expanded ways to earn cash back in the first place. By offering these opportunities to save money at a variety of places, you'll also be helping your members afford things that might otherwise be cost-prohibitive.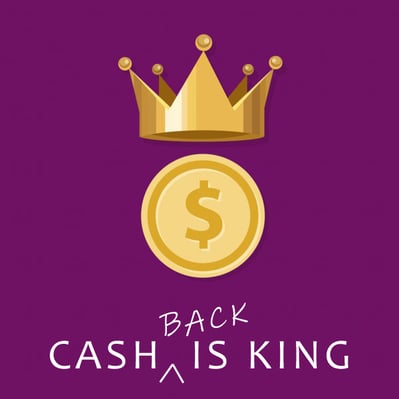 For example, Access Development has partnered with hotels worldwide to offer unprecedented levels of cash back on travel. Experiential rewards are some of the most emotionally impactful, especially to younger generations who value experiences over possessions. When members can save tens, even hundreds of dollars on a hotel, and they get that cash back within days of booking, for some that might mean they can spend an extra day at Disneyland. For others, it might be the difference between not being able to afford to go at all.
"Cash is still king," said Kelly Passey, President of Access Development. "What's a more tangible reward, cash in your pocket that you can use today? Or a point that you may be able to use in the future IF you keep spending and IF you don't forget it's there?"
Discounts AND Cash Back Rewards?
Clearly, a cash-back rewards platform can be a great addition to any loyalty program or benefits package. Yet, if you're thinking "I already offer discounts, so I'm good to go," maybe keep reading.
Discounts are a great strategy for enticing new customers to try out your brand. At Access Development, we love discounts. Over the past 35+ years, we've built the nation's largest private discount program with deals on dining, shopping, travel and more. And we use it to help businesses grow and retain loyal fans. In all our research learning the best way to promote using discounts, we've definitely learned there are better and worse member engagement strategies.
Just like with everything else, there's a good way to discount and a bad way.
Strategic deals are a great way to entice new business, draw back lapsed customers or reward your most loyal fans. When used sparingly, brands can offer deeper discounts that generate more excitement and long-lasting loyalty. The best discount programs limit deals to go only to certain audiences, to run only certain times of year, or to only trigger when members cross a specified threshold.
Problems can arise when brands hold constant, wide-spread promotions. These kinds of continuous discounts come with the risk of devaluing your brand. After all, if your product is always available for a lower price, then customers will perceive its value to be lower too, no matter what you label as its "normal" price.
Businesses with robust customer engagement strategies don't let this hold them back. They use discounts strategically to get the most benefit AND diversify by using other complimentary forms of promotion.
Enter cash back.
Cash back offers an alternate strategy to help prevent customers becoming accustomed to paying lower prices.
How to Use Cash Back in Your Marketing / Product Strategy
While cash-back rewards are ideal for encouraging sales of products or services, brands aren't the only types of business that can benefit. By partnering with brands, businesses of all kinds can share tremendous value--often merchant-funded--with their audience and enjoy loyalty in return. This partnership benefits brands too, as it lets them advertise to new pools of potential customers.
The best way to use cash-back rewards varies by industry. Their versatility allows many businesses to customize the reward structure in order to best serve their constituents and accomplish important goals. Here are a few exciting ways different industries are using cash back rewards in their marketing and product strategies:
Credit Cards
Credit cards have been offering cash back in varying forms for since the 1980's. Now, industry estimates say more than 60% of credit cards issued are linked to some kind of rewards program. Typically, they'll offer around 1% cash back on all purchases. Many brands offer their own credit card with higher percentages of cash back spent at their stores and sites, or on promotional items, though even these percentages rarely rise above single digits.

Credit card providers have to keep rewards small because of the low profit margin provided by interchange fees, interest charges and other member fees. By partnering with merchants of all kinds, card issuers have the potential to multiply their rewards power. That's because merchant-funded rewards are typically much higher: 5%, 10%, 25% or more.
Many brands are eager to encourage new audiences to spend money (or spend more money) at their places of business and are finding cash back rewards an effective way to do so. Credit card users are an enticing audience, making merchant-funded rewards a benefit to card issuers, members and merchants alike.
Membership Organizations
For organizations and brands with loyalty programs, member engagement is the name of the game. Given all the benefits of member retention, it's no wonder organizations are searching for more member engagement ideas.
Cash back rewards fill many of the needs of organizations serving a diverse set of members. Remember how many people view cash back rewards as an alternative to coupons? Well, saving money on everyday items is a universal need that can benefit every member, no matter their original reason for joining.
Employers
There will always be competition to attract and keep top talent working at your company. That's why more and more employers are adding competitive employee benefits to their compensation package. Benefits like lifestyle discounts and cash back rewards are popular because they help employees stretch their paychecks many times further than the cost of the benefit to employers.
Plus, employers themselves can benefit from cash-back rewards on expenses like office supplies, furniture, and especially business travel. Providers like Tripplio help business travelers get discount prices on travel expenses like hotel stays, plus earn cash back--maybe a little, sometimes a significant amount. This means employees who travel for business, whether occasionally or frequently, can earn rewards they can use instantly, instead of having to wait for points to accrue. Or for that matter, employees can keep the cash and divert it to other businesses expenses or to fund employee gifts/bonuses.
Challenger Banks/"Neobanks"
Neo-banks are growing rapidly in popularity, but are facing challenges when it comes to diversifying revenue streams. With interchange fees nowhere near a growth industry, they have to find other ways to scale.
The good news is, tech-savvy millennials make up a large portion of the audience naturally drawn to the freedom of digital/online banking. Those same millennials are also big fans of money saving cash-back rewards, especially those on the lifetime experiences they crave.
It makes good sense for neo-banks to partner with cash back providers that offer revenue-sharing alternatives that will give customers tangible value, all while helping them maximize customer lifetime value for the profits they need to scale.
A Good Partner is Worth its Weight in Gold
With all the many benefits a business can enjoy by offering cash back rewards to their constituents, the best news of all is that they don't have to do it alone. In fact, there are many companies ready to partner up and provide members with instant value, without the price tag normally associated with traditional rewards programs.
"Right now people have so many rewards programs in their wallets and purses, they simply can't engage with all of them," said Passey. "But a good cash back rewards program can easily get top-of-wallet because the value is so rich and the immediacy of the reward is so compelling."
Access provides a white label rewards platform with high cash back potential AND lets you decide what to do with it. That's because when you're offering a reward back to a customer who has already purchased, you have the unique opportunity to choose exactly how the reward is given. Some of your options may include: earning back end revenue by sharing a portion of the cash reward with the member, and keeping part for your company. You could also convert the reward into your already established points system.
In addition, Access will provide member level reporting, set-it-and-forget-it marketing support (with permission to email members), easy web/mobile integration into your current platform and more.
If you're interested in learning more, contact the cash back experts at Access Development.
Topics: Rewards Programs, Customer Engagement, Customer Incentives, Member Benefits, cash back rewards, Travel, merchant funded rewards, customer retention, discount program, member acquisition, member engagement, associations, association marketing, Acquisition, Membership Organizations, loyalty programs, membership benefits programs, member engagement strategies, white label
For over a decade, Kendra Lusty has been a writer for Access Development, and currently focuses her research and writing on topics related to loyalty and engagement.