Michelle White
Employee Discount Programs: Celebrating Workers of the World for Labor Day
Happy Labor Day!
Here on the Access Loyalty Blog we talk a lot about member engagement and how to earn it. We dive deep into the world of member loyalty and seek to master it from just about every angle – especially when it includes discount programs. (Those are our favorite.)
But today the occasion calls for something a little different. This Labor Day, we want to give a front-page salute to all the workers that show up day in and day out to contribute to the prosperity of our society.
So much of business today centers around attracting and satisfying end-users (a.k.a. members or customers). And when we aren't focused on them, we're usually working to keep our shareholders happy.
Rightfully so. Shareholder and customer engagement are both critical to corporate success. But what about employees? They're the ones responsible for appeasing those customers and shareholders. Who takes care of those important people? It's not sales or business development or the director of membership marketing.
It's Human Resources.
HR professionals devote their workday to recruiting, retaining and engaging employees all the way from the tip-top of the company down to those answering phones on the front lines.
We've made the argument that when a company takes care of its employees, the rest falls into place. (You can read more about that here: The Customer Comes First? No, The Employee Does.) Because according to one study, organizations that have over 50% employee engagement rates retain over 80% of their customers.
What is Employee Engagement?
"Engaged" employees take the company's success personal. They go to great lengths to do more than their share of the work. They consider themselves a vital piece of the organization and operate accordingly.
Employee engagement pays.
In fact, Gallup reports that highly engaged business units result in:
41% reduction in absenteeism
17% increase in productivity
10% increase in customer ratings
21% greater profitability
Thus, HR professionals play a crucial part in not only employee relations, but the bottom line for the company. And one of the main ways they tackle that is with benefits and perks.
Employee benefits and perks are a huge part of workers choosing where to work and a crucial piece of every compensation package. Their value (or lack thereof) can often make or break the employee experience, which in turn directly affects the customer experience.
Great Employee Discount Programs Stretch Paychecks
Though employees first and foremost trade their time for a regular paycheck, a great job is about much more than that. Workers want stability, security and growth – both professional and personal. And with unemployment at a half-century low and turnover higher than it's been in a decade, HR professionals tread volatile ground in a fierce battle for top talent.
To stay in the game, companies provide unique employee perks that help workers save time and money. Tech giants like Facebook and Google are leading the pack. The best employee perks empower employees to experience more both in and out of the office.
And there are few things better than a discount program to help employees do just that.
Employee Discount Programs Increase Employee Engagement
HR professionals hoping to increase the quality of their talent acquisition and employee retention seek creative additions to their benefits packages. And as the nation's leading discount experts, we at Access Development provide something crafted specifically for employees: Access Perks. It's an employee discount program that works exceptionally well for a handful of reasons.
Employee Discount Programs Add Cash to Their Compensation
The reality is – many companies can't afford to pay top dollar for salaries in this competitive labor market. Instead, HR professionals hunt for benefits that will make a difference for their people. And it's often the "little things" that mean the most to them. Employees want stuff that takes care of their real-life, everyday problems. A good discount program lets them save money on things like their cell phone, auto expenses and clothes for the family.
These days, unfortunately, many workers have experienced a decrease in their take-home pay thanks to growing prices for health insurance. Many workers appreciate that their employer has their back by giving them ways to stretch their paycheck and make every dollar count.
Employees Can Use Corporate Discount Programs as Much as They Want
Corporate benefits are supposed to help employees – yet the nature of many of them discourages usage. Take health insurance for an example. The more it's utilized, the more it costs.
On the flip side – it's incredibly refreshing to offer a benefit that employees can use as much as they'd like without it costing the company or the employee anything extra.
Employee Discount Programs Support Well-Being OUTSIDE the Office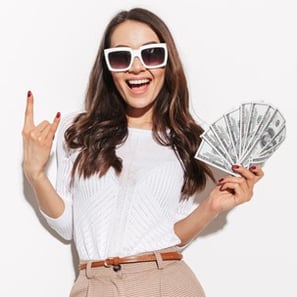 As a general rule, employers care about their workers and they show it in a variety of ways. Helping them save their hard-earned money is a personal connection that not all organizations offer.
Great employee benefits extend that connection beyond 8 to 5 and outside the walls of the business. With a program like Access Perks, employers become a welcome presence in every part of their employees' lives. They offer employees an easy way to save on oil changes, haircuts, dry cleaning and even their morning coffee at the shop around the corner. Employee discount programs let workers keep more of their paychecks and introduce them to opportunities and experiences they might not otherwise be able to afford.
Employee Discount Programs are Easy to Use… for EVERYONE
It can be an intricate task to find benefits that apply to everyone in a multi-generational workforce. But with enough ways to save, the best employee discount programs have something for everyone. Employees can print a coupon to present at the register or save on their online shopping – and in the case of Access Perks, users LOVE the mobile app and how easy it is to use.
The reality is, in today's digital world, we are all basically glued to our phones. With the app, this particular benefit is always at their fingertips, ready when they need it.
Employee Discount Programs are Affordable
HR rarely has a huge budget. And it can often be difficult to get the CFO to buy off on new benefits.
Employee discount programs are in a drastically different price bracket than many other employee perks. Of course programs vary in price, but Access Perks is available for about the price of buying each employee a candy bar.
And with a discount program in their benefits arsenal, employers become the hero that hooks their people up with savings at restaurants, theme parks, hotels and more. Plus, they can save the company thousands of dollars each year on corporate travel and dining expenditures.
What other benefit makes such a vast difference and costs so little? It's basically a no-brainer.
Unique Perks for One-of-a-Kind Employers
The key with employee benefits is to find what fits for your specific organization. They're a great way to reinforce a warm culture and supportive work environment. Employee discount programs help organizations put their proof in the pudding when they say they care about their workers.
And let's face it, there's not much that's more Labor-Day-ish than taking a step back to ensure employees are happy on the job.
When companies invest in their workforce, they tend to reap the reward with engaged employees that stick around for the long-haul. And with seasoned experts on their staff, it's a whole lot easier to deliver first-rate customer experiences.
For more information about Access Perks, head over to https://www.accessperks.com/.
Topics: employee engagement, employee incentives, Employee Engagement + Loyalty, 2019 Employee Benefits, best employee discount programs
Michelle White has held a variety of roles with Access over the last 15 years that focus on both member and employee loyalty. She loves books, the piano and peach snow cones.