Gary Toyn
Free Discount Programs: 10 Secrets They Don't Want You to Know
Member discount programs can be an effective benefit, especially in times of high inflation when members are looking for ways to stretch their paychecks.
Because of the popularity of discounts, many free discount programs have popped up, hoping to take advantage of the trend.
We list 10 secrets free discount programs don't want you to know.


About an 8-minute read.
Everyone likes free stuff? Right?
Unless of course I'm driving through the neighborhood and somebody offers some junky weed-eaters and other free stuff. It's first come first served. Yet sure enough, by the end of the day, all it's gone.
The appeal of "FREE" is often too much to resist. We've all fallen for a free offer because we truly want it to be of value. But no matter how hard we hope it will be of value, we're usually disappointed.
How good are free member benefits?
For member benefit administrators and other related executives, wouldn't it be nice to find a truly compelling membership benefit that's also free?
That's what free discount programs are promising. But are they really free? And do they really work?
It's hard to find a benefit that most all your members will love, but won't also break the bank. A value-added member benefit that can attract and engage members, while also generating goodwill – is not a throw-away task. And certainly not a task to be left to chance. But it can be done.
To be clear, we're not talking about your core member benefits. We're talking about an ancillary benefit, or as some call it, a "membership perk." Core benefits are the main reason people join your organization. For example, drivers join roadside assistance programs for peace of mind knowing they'll have help if they need it. Teachers join professional associations for career support, networking, and certification opportunities.
An ancillary benefit is any additional benefit added to your suite of benefits but can help keep your organization top of mind with your members by staying relevant in their lives even when they're not actively using the organization's core benefits. For employers, it's called an "employee discount program," and serves the same function as engaging, rewarding, and adding value to employees
One of the most cost-effective and popular ancillary member benefits is a white-labeled discount platform–or as some prefer to call it, a private label discount program. These programs come in various sizes and shapes, but the truly good one can offer unique or exclusive consumer discounts.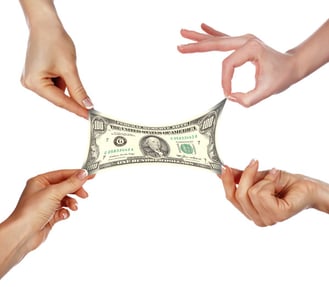 Now more than ever, inflation is eating away at everyone's buying power, so your members will be especially receptive to a member benefit that can help them stretch their paychecks. But they don't want just any old discount at stores they never visit, or do they want a discount that isn't worth the effort to redeem it. Members want deep discounts at their favorite local restaurants and retailers and they also want deals on travel-related purchases like hotels, airfare, theme parks, tours, cruises, etc.
For large national organizations, it's also a challenge to find a discount program that has a large enough footprint that can serve all your members whether they live in urban, suburban, or rural communities from coast to coast. And we're not talking about serving up online-only discounts, but in-store discounts that are redeemed in person at popular restaurants and retailers.
Why in-store offers make all the difference
It's these brick-and-mortar locations where we spend roughly 85 percent of our disposable income. Some may find that hard to believe, because of all the hype we hear about "Cyber Monday" or "Amazon Prime Day." But if you check out this quarterly report from the U.S. census bureau, it reveals how online shopping (or e-commerce as they call it) accounts for only about 15 percent of all retail sales. The rest takes place in-store, at a physical location.
Finding a discount program that offers compelling in-store discounts requires a little digging. Not every discount program offers them. That's because in-store discounts require a lot of work.
Take a restaurant discount for example. The discount company has to call the proprietor, and often it takes many calls to get them on the phone. Once they agree on a discount, they have to sign an agreement. Then the discount company has to activate the offer in their system so a user can redeem the offer by simply showing their mobile phone at the point of sale. It takes time, the proper infrastructure, and a lot of back-end work. But it's worth the effort if your members save money and end up loving your organization for giving them this special benefit.
It probably won't surprise you that only fee-based discount programs focus mostly on these in-store offers. We'll talk more about that later, but it illustrates why you shouldn't ignore discount programs that charge a modest fee.
The lure of "free" is hard to resist, yet many organizations hope a free discount program will work the same as a fee-based program.
As the old adage goes, "you get what you pay for."
What's the difference between a free discount program and a fee-based program?
Anytime you're offered a choice between a free discount program, and one that comes with a fee, it makes sense to ask the hard questions: Why would anyone give away a discount program if it has great value? What's in it for them? How could they stay in business if they're not charging for their services? How are they generating revenue? What are the downsides to such a program?
If you're truly interested in learning how free discount programs operate, here are 10 secrets a free discount program won't voluntarily reveal when they're trying to convince you to sign on the dotted line.
Free Member Discount Programs: What They Won't Tell You
The deals are public and forgettable –

The deals being served by free discount programs usually aren't exclusive or even unique. These discounts are freely available to the public-at-large through online shopping searches, daily deal providers, and deal aggregators. When you look at the average discount for free discount programs, it's roughly 8 percent off per offer. Fee-based discount programs deliver discounts in the range of 30-35 percent off per offer. Without compelling discounts, your discount program will quickly be forgotten by your audience.
The cost burden is shifted from your organization to your members

–

How do "free" member discount programs survive? They generate revenue from every online transaction your members make. They build their discount network on what the industry calls "

affiliate marketing

" It's where retailers give commissions to referring sites for putting their offer in front of as many eyeballs as possible. Retailers will give anyone who breathes an affiliate link and pay them a commission if they can deliver a buyer. That's why the discounts that free programs offer are found just about everywhere online. They're at places like Retailmenot, Slickdeals, and Google Shopping. For retailers, affiliate marketing is a volume game. And a free discount program is motivated by getting access to your members. The more people the better. They're not concerned about your member engagement. Or retention. Or renewals. They want to expose their discounts to as many consumers on your database as possible. That's how they generate the bulk of their revenue.



Free discount programs can't deliver many deep discounts –

Big online retailers sell their products through multiple channels. Affiliate marketing is akin to common advertising. They can give a small 5 percent discount to millions of people, and they'll still be quite profitable. Again, it's a volume game.



Aside from these public-facing affiliate offers, another retail strategy is to leverage their direct relationships with a large, private discount network. For a private discount network, their members come from large membership-based associations like trade groups, unions, clubs, and travel groups that offer discounts as a member benefit. All members must have passwords before they can see and redeem the discounts. For retailers, they love these private member networks because they gain access to a very large and highly prized consumer demographic like college-educated folks with a higher disposable income than a typical consumer. Retailers want to reach these consumers because they tend to spend more, and they're often pretty loyal over time. To reach this audience, retailers give some of their deepest discounts as a strategy to incentivize these consumers to make their first purchase. These deep discounts are never exposed to the general public because retailers don't want to give a deep discount to existing customers who are willing to pay full price. Because free discount programs rely on affiliate offers, they usually don't get these deeper discounts.
Free programs heavily promote offers that are most profitable for them –

Instead of serving up the less profitable discount offers that will appeal to your members, most free discount program providers push the most-profitable deals for them. That means you'll see a lot of offers for day spas, massage therapists, teeth whitening, and tax preparation. Or they'll promote outdated or damaged clearance items that they buy in bulk, and they can sell at a nice profit. In many ways, what they promote is nothing more than common ads you'll see everywhere else online or in the blue envelope in your mailbox.
They don't offer many in-store deals at popular places like restaurants –

As stated previously, f

ree member discount programs are motivated by offering discounts they can monetize. That means they'll only offer digital offers, and not in-store, face-to-face redeemed offers at places like sit-down restaurants, pizza places, burger joints, cafes, or even retailers like big box stores, local boutiques, and auto service centers. If they can't take a portion of the transaction, that offer will never see the light of day with your members or customers. That's why free programs will typically offer only online discounts and rarely any in-store redeemed offers.
They want you to believe they have a lot of in-store locations –

Free discount programs are smart, and know the consumer appeal of in-store offers. So when it comes to selling you on the size of their discount network, they'll use tricks to make it appear as though they have a massive network of in-store discounts. But instead of saying how many directly contracted physical locations they have in their network, they'll make claims to having a bazillion "discounts" or "ways to save," but rarely do they claim to have many physical locations. If they do claim to have physical locations, they'll also use creative math so you'll think their network is bigger than it is. Without knowing how many actual, physical locations are in their network where they have a direct relationship, it's almost impossible for you to make an educated, apples-to-apples comparison between competing discount programs. And that suits them just fine.
Your member's personal data is "monetized" –

Another way free discount programs create revenue is to sell your members' personal, usage and redemption data to a host of willing buyers. They may divulge their intentions in their contract, but usually, it's buried in legalese that you won't readily recognize.





They won't offer real-time customer service –

Eventually, a member may have some type of hiccup when they're trying to redeem an offer, or they need a refund. Free member discount programs aren't in a position to intervene on your member's behalf, so the only member services they'll offer are a self-directed FAQ or an email-only option with a 24-48 hour response time. Otherwise, your members are on their own when it comes to chasing down an issue. If they can't figure it out on their own, these issues tend to end up being routed to your already overworked staff.





Your members will be spammed –

Many free member discount programs use questionable marketing practices that bombard members with an avalanche of unwanted marketing emails. These programs are comfortable employing spam tactics, such as ignoring unsubscribe requests, or using a confusing opt-out process so your members can never figure out how to make the emails stop. It tends to wear on your members very quickly – and makes your organization appear to be the bad guy.




They'll add complicated point schemes –

To help make their ho-hum discount offers seem more attractive, some free member discount programs will offer members an "opportunity" to earn points from their purchases. These points are used as an incentive toward receiving an enticing bonus reward. Unfortunately, what these programs don't readily reveal is that the threshold of points required to earn a prize is so high that most members will never benefit. They'll also tease a really cool prize, but come to find out there's a very limited supply available. At first, your members will be excited about earning points, but after a while, they'll blame your organization because they can't actually get anything of value.


What's your organization's goal?
Much of the decision about free vs. fee-based discount programs comes down to your organization's goals.
If your primary goal is to drive long-term member engagement, then a free program is not likely to help you reach that goal.
On the other hand, some organizations are less concerned about retention and engagement and are focused on generating every penny possible from their member database. If that's you, then a free program may work for a little while, but not for long.
Other organizations want to add a discount program without concern for its ability to deliver much value to their audience. Their goal is to simply "check the box" so they can tout their discount program in their sales materials. They have little interest in whether or not their members use the program. If that sounds like your organization, then a free program may work for you.
However, if you want to offer a value-added benefit member benefit that your audience will actually use, then a fee-based program is far more likely to help you succeed. Likewise, if you want to use your discount program to help acquire new members and retain the ones you have, a fee-based program is by far the best choice.
What's an Effective Member Benefit?
By definition, an effective member benefit: 1) must add value to the member; 2) must be unique or exclusive to your organization, and, 3) is not available to the general public.
A free discount program won't be much of a member benefit because it lacks true value, their discounts are not unique to your organization and their discount content is freely available to the general public.
While free and cheap are hard to turn down, these programs aren't likely to move the needle when it comes to member engagement or retention.
How much should I expect to pay for a fee-based discount program?
As far as costs, much of the price depends on the size of your member base. Relatively small organizations (<1000 members) can get a compelling member discount program for about the same cost as giving your members a small candy bar each month. Large organizations can expect to pay much less per member per year.
When the typical member can save a few hundred dollars from your discount program, that's a member benefit with an ROI few other benefits can deliver. The member savings can often offset the cost of your annual dues, which makes for a powerful marketing message.
If you'd like to learn more, check out this Buyers Guide to Turn-Key/White Label Discount Programs for Member Organizations. You'll find all you need to know about what to look for in a discount program, why they work as a member benefit, and what pitfalls to avoid.
Conclusion: While free discount programs are plentiful, their business model is not conducive to helping your organization grow. The biggest reason is that most, if not all their discount offers are online affiliate offers that are publically available at a host of aggregators and deal sites. A fee-based discount program is far better equipped to help your organization attract, retain, and engage your members/customers.
What's your take? Have you used a discount program and been disappointed? Have you been thrilled? We'd love to hear your experience. Leave your comments below.
Topics: Customer Engagement, Merchant Discount Network, Discount Programs, Member Benefits, discount networks, earning engagement, customer service, customer retention, member engagement, Customer Services, best employee discount programs, value added member benefits
For 25+ years Gary Toyn has helped organizations large and small improve their constituent/member acquisition, retention and engagement. He's a multi-published author, writer, and researcher.