Brandon Carter
Survey Says: Loyalty Programs Popular But Lack Relevance
There has never been a more exciting time to be in the customer loyalty business. Every day it feels like some new technology hits the market (especially in the mobile world) or some company is going above and beyond to do something great for their customers.
There are a record 2.65 billion loyalty program memberships in the US, a 26.7% jump from 2010. The average household contains 21.9 loyalty programs, up from 18.4 two years ago. These figures are from the latest Colloquy Loyalty Census, which serves as a snapshot of the industry as a whole and the verticals within.
We previously summarized the Maritz Loyalty Report, which had some great information that mostly pointed toward growing interest in loyalty programs, but waning engagement. Not surprisingly, Colloquy's findings point in the same direction: there is a consumer hunger for loyalty programs – to be recognized, engaged, rewarded – and a lack of fulfillment by brands in meeting those desires.
Of those 2.65 billion memberships, members are active in less than half of them (44%.) Describing "active" as "members who have engaged at least once in the past 12 months," Colloquy says this number is growing, but at a slower rate than overall memberships (21% to 26.7%.)
Why?
In their own words:
"These figures suggest that either new programs acquire members and can't keep them engaged, or that both new and existing programs are failing to strike a chord with members."
Program Overload
Either way, there is a failure to provide tangible, reachable relevance on the part of the programs, and instead of fighting an uphill battle to pull love from the program, members simply look elsewhere. Oftentimes, according to Maritz's report, that "elsewhere" is whoever has lower prices or more accessible rewards.
There are a few reasons for the lagging member engagement, as Colloquy notes. The sheer amount of new programs has certainly altered these numbers, and people have no choice but to run with the select few that appeal to them. Also, each program is trying to compete for limited mindshare, and the sheer amount of emails, texts and social media posts from each one is too much for any person to take.
Another potential cause for the failure is a focus on acquisition, not retention. Brands are great at making their programs sound great, but consumers often get in, browse around, see rewards that aren't very accessible, and move on.
What's In It For...Anyone?
All of these factors tie in to one recurring theme: relevant value. The bottom line is most loyalty programs are still being built for the sole benefit of the brand, and whatever members get out of it is secondary. As Colloquy notes, the benefit of being able to track member data is of the utmost importance, but operating a rewards program that's lacking in actual rewards is placing your brand at risk for pushback or even worse, apathy.
In our opinion, both of these reports act as giant neon signs, screaming out "YOU NEED RELEVANT VALUE" to the entire loyalty industry. The consumer interest is there, as evidenced by the rapid growth of these programs, but the declining activity is a clear indication that the majority of them are missing the mark.
Frequent, easy-to-capture member benefits are critical to keep members engaged with the program – and therefore the brand.
With younger consumers expressing little interest in brand loyalty and instead focusing on price, loyalty programs are becoming more important than ever. But people don't sign up just because they think it's cool to show loyalty to a brand. They want to get something out of it, and when the program fails them, so does the brand. There has to be something in it for the members, not just the brand.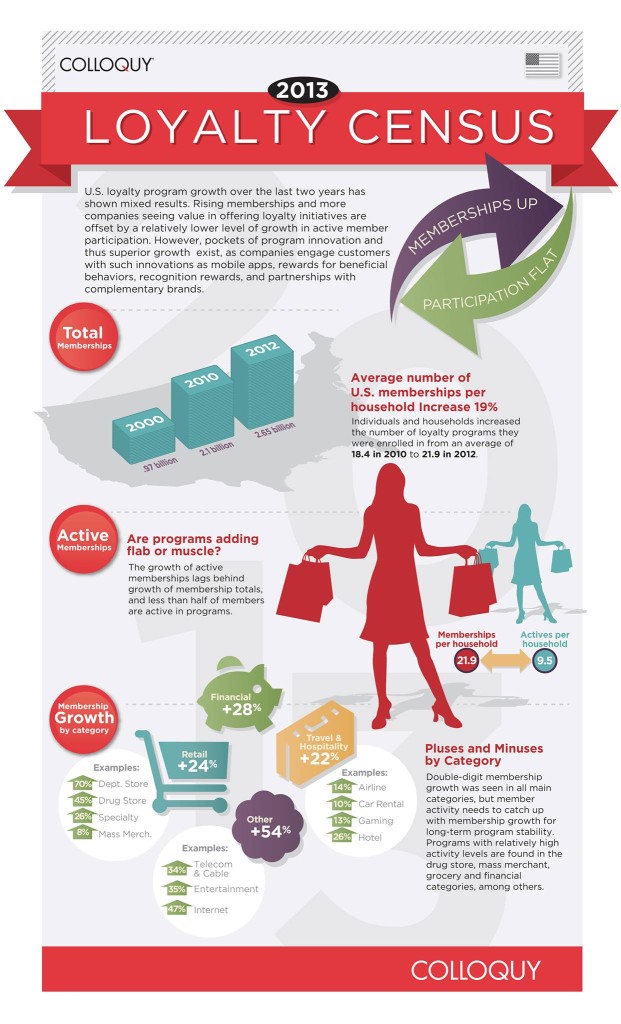 Topics: Rewards Programs, Points and Miles Programs, Ongoing Incentive Programs, Discount Programs, Payment Card Rewards, Card-Linked Offers, Member Benefits, Access Development, brandon carter, customer loyalty
Brandon is a former writer and marketer for Access Development. He's a frequent blogger on customer and employee engagement & loyalty, consumer trends, and branding. Connect with him on LinkedIn or Twitter at @bscarter