Kendra Lusty
Lessons from Gillette: 3 Keys to Engaging in Social Commentary
Entering the world of social commentary has its consequences. Just ask Gillette.

In case you missed it, the razor-making powerhouse recently released an internet-only ad that quickly spread with nearly 20 million views in 48 hours. The message addressed a social issue that has sparked a lot of conversation over the past year. While some were pleased with its call for men to do better, others reported being offended.

So why speak up at all? After all, the number one reason people say they are loyal to a brand is the quality of its products, followed by the care of its customer service.

Increasingly, however, a new factor is emerging: social consciousness. And it may grow to contend as a top reason customers stay loyal to brands.
The Rationale for Cause-Based Marketing
Whether brands like it or not, declining to participate in social discussion may no longer be an option. People have rapidly gone from respecting it to demanding it.
In a recent study by Accenture, they found "US companies that stand for something bigger than what they sell, tune into customers' beliefs, and take decisive action on issues can recast their customer relationships and connect with consumers on a deeper level."
Other studies have found that 62% of consumers want companies to take a stand on current social issues and 89% of Americans say they are loyal to brands that share their values.
And the trend is only more pronounced among younger generations. 52% of Millennials, 48% of Gen X and 35% of Baby Boomers feel it's important their values align with the brands they like.
So what can businesses do? Especially small ones. In the face of potential blowback like Gillette has faced, it can seem like a scary journey to embark on.
Here are a few key rules to keep in mind – particularly if you're hoping to translate social consciousness into a better brand, more loyalty and – ultimately – higher sales.
Consider your Audience: Gillette vs. Nike
The fact of the matter is, when you pick a side, you're going to alienate those on the opposite side. And yes, people are paying attention, especially younger generations. 54% of teenagers age 16-19 say they have deliberately purchased or stopped using a brand because of its ethics. A brand needs to carefully consider just who they're going to appeal to.
Gillette
In Gillette's case, a large portion of the base for this 117-year-old brand is older, white men who have been loyal for most of their lives. And this demographic viewed the ad most negatively. On the other hand, it was viewed positively by more women – many of whom are the primary shoppers for their households – and Millennials (who just happen to be shaving less with beards in fashion once more.) Was appealing to a younger audience and primary household purchasers the goal all along?
If statistics hold true in this case, 42% of those displeased by this ad will walk away from Gillette. Worse still, 21% will never return. That's the natural consequence of picking a side. Time and future sales will have to reveal if they created enough affinity with a new audience to recover those lost.
Nike: the Kaepernick Effect
Nike's ad from 2018 with Colin Kaepernick as spokesperson also produced a very divisive effect. #boycottNike was just as rampant as #boycottGillette, maybe even more so. The ones who sided with Kaepernick (and by extension, Nike) were the same Millennials (and younger). In this case, the ad appealed to Nike's current core audience.
From a business standpoint, it made good sense to the tune of a 31% increase in online sales immediately following the ad -- along with a fair amount of brand-building press, much of it good and ALL of it free.
Consider Your Voice: Gillette vs. Ben & Jerry's
Before entering any controversy, it's important to ask: Are you really the right brand to be delivering this message? And have you set yourself up to be heard?
Statistics show that people want to know their brands on a more personal level. 53% of consumers said they would be more likely to consider brands that are transparent on social media for their next purchase. And conversely, a lack of transparency might lead 86% to purchase from a competitor.
Gillette
After it became clear that some were unhappy with the brand's messaging, brand director Pankaj Bhalla explained they wanted to be part of an important conversation: "As a company that encourages men to be their best, we feel compelled to both address it and take action of our own."
Yet some claimed they piggybacked off the popularity of the #metoo movement, and others that they faked "wokeness" to inspire lagging sales.
These kind of arguments could perhaps have been forestalled with a little extra work beforehand to establish themselves as a brand that cares about this topic. Perhaps more people would have listened if the change from "the best a man can get" to "the best a man can be" were introduced softly or more gradually?
Still, every company has to start somewhere. Many believed it commendable for Gillette to enter into the sphere of socially conscious companies with such boldness out of the gate. Maybe future ads will be better received with this newly established precedent backing them up.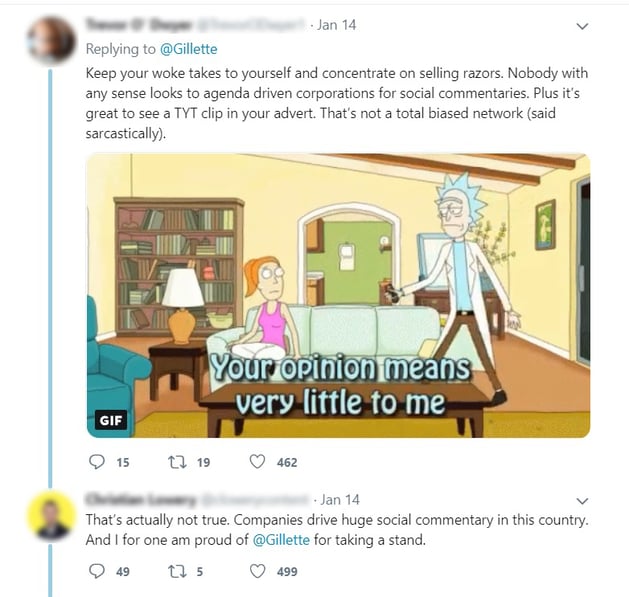 Ben & Jerry's: The Nicest Possible Way
Ben & Jerry's has found success with ads that, like Gillette, sometimes have little to do with the product they're selling. However, activism is 100% ingrained in the brand. This is transparent in everything it represent: its mission statement, social media presence, and representation from faces within the company. As a result, this brand has been able to speak up on all kinds of diverse issues from global warming to marriage equality to criminal justice reform and beyond. All this is reinforced by its own ethics that its ice cream is made "in the nicest possible way."
To be fair, Ben & Jerry's has its fair share of disagreement and lost customers. But as a well-established part of their brand, customers who agree with their stances feel like it helps them be part of something bigger.
Invite them to Join Your Cause: Gillette vs. Stella Artois
People increasingly want to do good in the world. And they are gravitating toward brands that help them do just that. 85% U.S. consumers prefer brands associated with a cause and 79% of Gen Z would engage with a brand that could help them make a difference.
Gillette
At its heart, Gillette's ad was a challenge for men to be the best they can be. A good message, right? Some of us may even have gotten a bit choked up the first time we saw it.
Unfortunately, while Gillette may have intended to say "lets help each other be even better" too many seemed to have heard instead, "all men suck and will continue to suck unless you stop being a man. Oh and buy this razor." Those people saw a company standing on a soapbox and telling others what to do…and they responded by throwing virtual rotten fruit.
Unfortunately as an internet-only ad, the ability for people to easily stop watching at any moment seems to have only exacerbated the problem. Had Gillette done more in advance of the commercial's release to establish its new-found consciousness and build a legion of followers, overall response may have unfolded in a different way.
Stella Artois: Pouring It Forward
Last year, Stella Artois released an ad in conjunction with water.org to raise awareness about the global water crisis. And, like Gillette, its message was also along the lines of "let's help each other be even better." An invitation without the potential for insult.
One reason for this is the brand had already been working with water.org for several years. But maybe even more importantly, they pledged that a customer's purchase would be "poured forward" to help bring clean water to developing countries. This brand had already proved its own investment in the cause and just needed a little help to make a big change in the world.
What Does this Mean for Small Businesses?
Standing for one's values no matter the consequences is commendable. Brands large and small have proven they can take a stand, weather the consequences, and end up with stronger customer relationships (and ultimately, sales.)
For those who are a little afraid to take the plunge, social consciousness can come in small and (mostly) safe ways.
Start small – Little guys may not be able to make sweeping global changes, but every little bit helps. Any business can take a stance of "doing their part to make a difference in the world."
Start close to home – Even little issues can feel major to locals in your community. Some ideas might include: playing host to a local petition or supporting high school sports teams (as long as local rivalries aren't so heated as to alienate half the town.)
Start non-controversial – No one said you have to jump right into controversy. You can start building social good into your brand by supporting charities. Even if it's not every customer's preferred charity, people rarely become angry at one's attempt to do some good in the world.
Start with your own actions – Leadership by example is a powerful force. So if you recycle, source locally, vote, etc. let people know! They'll respect you for it, and they'll hear your message when you encourage them to do the same.
One thing is clear. Gillette successfully got people talking: talking about a social issue important to it, talking about the brand itself, talking about how brands are talking about social issues...and if that's how you measure advertising success, it's already proven a smash. But we have yet to see if shifting loyalties will settle into a stronger and more loyal customer base -- and more specifically, if it'll inspire people to go beyond talking and start buying.
What do you think about the Gillette campaign? How will it impact customer loyalty in the long term? How much does that matter for a brand like Gillette? We'd love to hear your take.
Topics: Customer Engagement, member retention, millennial statistics, customer retention, member engagement, customer loyalty, statistics, consumer trends, Benefits Trends, member loyalty, social consciousness, gillette
For over a decade, Kendra Lusty has been a writer for Access Development, and currently focuses her research and writing on topics related to loyalty and engagement.