Brandon Carter
The Five Key Elements to Build Customer Engagement in 2018
2018 is the year you're going to make a ton of money. Even more than you're already making.
Some of it will come from new customers.
But the majority of it will come from those already in your fold.
Hey, you're already here, on a customer engagement blog, so you've already taken the first step: getting serious about retention.
What happens from here? If they haven't already, 2018 is going to be the year when your executive team wakes up to the money they're losing out on by pursuing new business at the expense of current customers.
If they don't see it, you're going to be the one to pull that sword out of the stone and change the way your company does business.
Here's the good news.
Customer engagement in 2018 doesn't require a huge budget or expensive technology. Admittedly, both are helpful.
Really, all you need is determination to be more empathetic to your customers' needs than your competitors will be.
Even the most basic engagement operations will be successful in 2018, if they include these five elements:
The Five Essential Elements of Customer Engagement
Content is the basis of many engagement-triggering conversations. It's what you use to make people experts in your business, which in turn makes your business an invaluable part of their personal toolbox. It educates, informs, excites, and/or tells a story.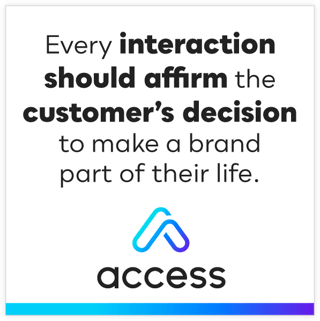 Great content means adding value to the conversation, and that requires doing more than just talking about yourself. It's inserting your customer in the story, addressing their personal monsters that you're helping them slay. It's even incentivizing them to make the next connection, or using valuable discounts to create everyday interaction.
In many ways, this is a throwback to the marketing funnel. Identify where your customers are and address their questions head-on. Map out your buyer's journey and put yourself in their shoes at every stage - then build something that's so helpful they can't help but take the next step with you.
A System for Tracking Warning Signs
No matter your business, at some point there is a point where a customer decides they're done. If you're in a data-rich environment, such as software or subscription services, then spending some time with the analytics will show you the path. Maybe engagement drops off, or they stop logging in, or they're only using one aspect of your service that's more cheaply executed by other brands. Your job is to find these weak areas and proactively connect to avert churn.
And if you're not one of those data-rich businesses? Then you must acquire whatever data you can through a loyalty program or other membership function. If nothing else, increase the frequency of your touchpoints and become more proactive about soliciting feedback and responses.
The companies that will succeed the most in 2018 will use the data on hand to improve the customer experience, not just sell more stuff. When data isn't available, then they must rely on two-way dialogs and customer feedback.
For many of you, this will look like a Customer Success department. Here's why they're not just for software companies.
Many people associate email frequency with churn. They say the top reason people dislike brands on social media is frequency of posts.
Stop being afraid of frequency.
The thing to be afraid of is value - is what you're publishing actually carrying something of value to the customer?
Add value to every communication, then adjust the frequency as needed. Some will churn, some will stick. Find those who stick, and build from there.
As we frequently say, frequency is only an issue in the absence of value.
Determination to Reach Out
There is no single magic channel that will hit a majority of your customers. Email is your closest bet, but you can't rely on it alone.
You must create connections on multiple channels. That means placing yourself where they already are, in social networks, web forums, even taking it offline if that's what your audience is into.
This probably means throwing some money toward social networks like Facebook and Instagram. Even if they like/follow your page, there are no guarantees they're seeing your content. It's worth it to spend a few dollars to reach them in a channel they're already comfortable in. Go on their turf, then entice them over to yours.
Use Technology to Enhance the Customer Experience, But Don't Rely On It
Most 2018 "forecasting" articles will spend a lot of times on bots, virtual assistants like Siri and Alexa, and creating hyper-convenient on-demand delivery methods like UberEats.
No doubt you need to be aware of what they mean, and get creative with how new technology can add value to your customers. The way people spend and relate to brands is changing rapidly and these technologies have a lot to do with that.
However, in 2018 the majority of customers still need a human touch where possible. How far do you work your way through an automated calling tree before pounding "0" to reach an operator? Probably not very far.
Your customer experience is your lifeblood, even more than your product. Focus on where technology can enhance your experience without jeopardizing it, and always have a human fallback when you implement anything automated.
Try Harder, Not Smarter
No, that's not a typo.
Today, customer engagement is still grunt work. It's a lot of effort that takes a lot of work before it can be effectively replicated by robots and automation.
Those are only as valuable as the content you're feeding into them, and the audience you're drawing.
As you learn more and put more engagement strategies into place, you'll be able to clearly show how engagement and loyalty more than hold their own against new business development.
43% of U.S. consumers spend more with the brands and companies they are loyal to (Accenture)
So put in the work today and throughout 2018. Spend time discovering trends in data, building great content campaigns, and personally interacting with customers.
Do the hard work first, then build the autopilot systems that will take it from there. Reach out strategically, frequently, and always be willing to listen and act on what's being said by customers.
Don't overthink it; see, learn, and react. And always add value.
That's how customer engagement and loyalty is going to make a strong comeback in 2018.
Topics: Customer Engagement
Brandon is a former writer and marketer for Access Development. He's a frequent blogger on customer and employee engagement & loyalty, consumer trends, and branding. Connect with him on LinkedIn or Twitter at @bscarter