Continuing a recent trend of Access executives being called upon for thought leadership, we're excited to announce Kelly Passey, Access Development's Executive Vice President of Product & Business Development, will be presenting as part of a panel at the PAYMENTS 2012 annual meeting May 2. "Thought Leadership in Merchant-Funded Rewards" features a panel of three prominent card loyalty and rewards leaders, who'll discuss the state of the industry and where it's heading in the new post-Durbin world.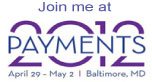 Kelly will share his thoughts as well as specific results from Access' work with financial institutions, such as the Zions Cash Rewards program, and how mobile fits into the merchant funded rewards space. Access works with banks across the nation on programs that lift cardholder spend and loyalty, as well as connecting merchants to relevant consumers.
The PAYMENTS conference runs from April 29- May 2 at The Baltimore Convention Center in Maryland. NACHA, The Electronic Payments Association manages the development, administration, and governance of the ACH Network, the backbone for the electronic movement of money and data. NACHA brings together payments system stakeholders to enable innovation that strengthens the industry with creative payment solutions.