Brandon Carter
Access Gives Back in 2013
If you've ever hung around our offices or gotten to know a few of our employees, you probably know that Team Access is a bit competitive. We're all great friends, but we also like to compete with each other. It's why you'll see our employees hopping into gyms on their lunch break or running a corporate 5K like it was the Boston Marathon.
Another thing Accessories (my pet name for Access employees; not an official title) are is very generous and giving. Every so often we get a chance to be competitive for a good cause, and that's when you realize just how much good a group of committed people can do.
That's never more evident than in our yearly employee food drive. Running over the course of two weeks in early November, this event challenges departments to bring in the most food to be donated to the Utah Food Bank. This year, Access pledged to match the donation of the winning team, and created a stunning trophy for the winning department to proudly display in the prominent office location of their choice. Introducing the Golden Gobbler: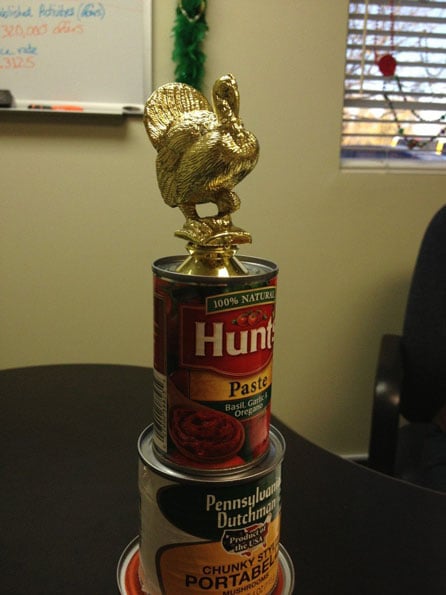 This year our employees set a new record with 4369 pounds of food donated, an average of nearly 37 pounds per participating employee! Naturally, corporate marketing took home the trophy, which we subtly celebrated.
Earlier this year Access pledged to donate a portion of each Restaurant.com certificate we sold to Feeding America. Our employees have also adopted 29 kids in our yearly "Sub for Santa" program.
All added up, Access and our employees donated $8622 to the Utah Food Bank and Feeding America, alongside countless other quiet contributions our company and employees put forth. All things said, it's been a great year for Access, and we're pleased to be able to pass the goodwill forward to those out there who need it.
And if corporate marketing can make sure that TriQuest Fundraising doesn't win in the process, then it's all that much better.
Topics: TriQuest, News, Access Development, charity, Utah Food Bank, feeding america
Brandon is a former writer and marketer for Access Development. He's a frequent blogger on customer and employee engagement & loyalty, consumer trends, and branding. Connect with him on LinkedIn or Twitter at @bscarter