Kendra Lusty
Savings on Everyday Essentials: Access' Response to COVID-19
You may have noticed our blog has been quiet for a few weeks as we focused elsewhere during the recent outbreak of COVID-19. Or, if you haven't noticed because more urgent concerns fill your attention, we understand. We hope you and yours are safe, healthy and ready to help each other recover.
It's nice to be back exploring loyalty and member engagement on this blog again. For today, we wanted to share our personal journey in navigating the effects of the worldwide pandemic.
When Access Development's hometown of Salt Lake City received the official stay at home order in March we, like many others, got an unexpected crash course in working remotely. And our immediate concern was providing seamless service to the clients who trust us, most of whom were similarly scrambling to adjust.
Our clients include a diverse number of member organizations, professional associations, employers, brands and more. Most wanted to provide their constituents with something of immediate value in direct response to the crisis. However, some struggled to find relevant value in their core offerings of member benefits.
For example, those in the travel industry found the value of their offerings to be temporarily on hold as people obeyed instructions to stay home. Others found themselves competing with basic needs to hold a place in members' budgets as unemployment soared.
Even businesses in industries feeling less economic pinch expressed worry over their members.
As the provider of the nation's largest discount program, we are in the unique position to help alleviate some of the financial worries shared by so many in our nation. So that's exactly what we set out to do.
A Shift in Focus to Everyday Essentials
Access Development has spent the last 35+ years building a spread of discounts from local and national businesses across the United States. These exclusive offers encompass categories from food and services to recreation and shopping.
Before March, our partnership marketing team was well into a years-long goal to build up our lifestyle discounts offerings. In the past year, we've introduced a more robust travel booking engine with prices typically 10-50% better than Travelocity, Expedia and other popular booking sites. Plus, we targeted the best rated restaurants and leisure activities in popular "destination" cities to offer exclusive discounts to our members.
We're proud of these efforts and believe that lifestyle discounts will soon return to the ranks of our most popular categories. Since March, however, more members have gravitated to sections that have always been a keystone of our discount program: everyday essentials.
In that spirit, several Access teams joined together to make those everyday discounts easier to find and redeem. We sifted through all 700,000 deals to find the ones that would fill members' most urgent needs. This curated list of "stay-at-home essentials" included savings for:
Groceries and take-out delivery
Setting up a home office
Educating and entertaining families at home
Telehealth services
And many others
We began distributing these deals via email not long after lockdowns began, and they were well received. It was clear people needed and wanted savings on necessities as a means of financial help during uncertain times. But with such widespread need, we didn't want to limit these deals to only those with email addresses on file.
The COVID-19 Playbook for Saving on Everyday Essentials
Senior director of product marketing Melissa Garcia and the product marketing team at Access immediately started searching for a way to get these deals into even more hands. After some collaboration, they created the COVID-19 Playbook for Everyday Essentials.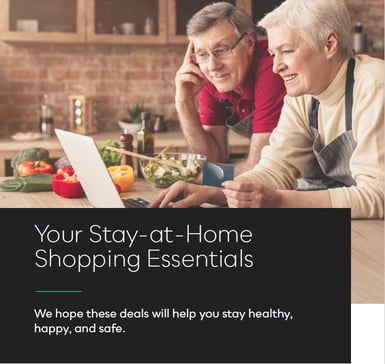 The playbook is a packet of marketing materials that our clients could use as they saw fit. It included:
A PDF flyer featuring hand-picked deals and instructions for redeeming them.
Electronic banners and ads
Social media posts
Client instructions on how to make the most of the marketing materials.
This was distributed to all clients. It was especially well received by clients for whom we do not email on their behalf.
"So many people are hurting right now. And while we're not equipped to help with medical solutions – we'll leave that to different/smarter experts – we were already set up to help ease some of the financial burden," Garcia said.
Access announced it would provide all essential deals to client organizations, even those that don't usually offer those categories, and to some non-clients with whom we already had a relationship.
Clients were grateful to have something of immediate value to offer to members. Many clients thanked us for providing materials that were both timely and relevant. They've shared across all channels, and reported that their members are using and valuing the deals.
"It's been so inspiring to see people all over the world band together to help those most vulnerable. We wanted to help keep that positivity alive in our own small way. I'm so grateful we were able to push this playbook out into the world where it's being used and appreciated," Garcia said.
What's next?
We don't really know if we as a nation are headed for a return to normal or a new normal. Either way, if we've learned one thing from the last few months, it's that everyday savings are always needed.
That's why we place so much focus on negotiating high-value deals at local businesses and in-store locations – the places where people actually spend their money. In the future, we suspect we will see a resurgence in the popularity of travel, dining and recreation discounts. Until then, we'll continue to grow this base of essential discounts, ensuring that every member has discounts nearby, no matter where they live.


Topics: Customer Engagement, Discount Programs, Member Benefits, member retention, discount program, member engagement, Membership Organizations, loyalty programs, member loyalty, membership discounts
For over a decade, Kendra Lusty has been a writer for Access Development, and currently focuses her research and writing on topics related to loyalty and engagement.