Brandon Carter
The 2017 Access Development Year in Review
December is a fun time around Access. Holiday decorations are up (and a contest for best-decorated area is underway), employees are catching the spirit, and tons of gifts are arriving in our shipping department (not for us; we encourage employees to ship their gifts here to prevent doorstep theft and anxious kiddos spoiling surprises).
There's still a lot of work to be done before we ring in 2018, of course. It's just a little more relaxing to work while surrounded by giddy people and delicious baked goodies.
A big part of our collective cheer comes from reflecting on how far we've come over the past 12 months. While January seems like it was just a couple weeks ago, Access packed a lot of good stuff into 2017.
We've grown our client base, solidified relationships with current clients, expanded into new industries, helped members save a ton of money, and engaged with half a million people on our various blogs.
Oh, and we were also named the top midsize workplace in the state of Utah, along with four other workplace awards.
No wonder the year has gone by so quickly - we've stayed busy!
So yes – overall we were reasonably happy with how 2017 turned out. We hope this year has been fulfilling for your efforts also!
Here's a breakdown of the big highlights from the Access year that was:

Recognition for Team Access
If you've read other articles on this blog, you know we constantly promote the connection between employee engagement and customer engagement. Keep your employees happy and customers will follow suit.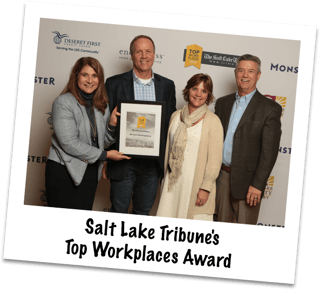 We try to not just write about that, but live it as well.
We're very proud to have a workplace that was recognized by five different organizations in the past year:
The Salt Lake Tribune's #1 Top Midsize Workplace in the state of Utah (plus a leadership award for CEO Casey Kleinman)
SHRM's When Work Works
Utah Business Magazine's Best Companies to Work For
Utah Worksite Wellness Council Healthy Worksite
Utah Psychological Association's Most Psychologically Healthy Workplace (awarded in late 2016)
The best part is all of these awards are based in part on direct employee feedback. It's a good indicator that our team is engaged and excited about what they do.
We've put a great deal of effort into building an employee-centric culture here. Our employees know they can come in, do jobs they enjoy alongside people they like, then still have plenty of time to spend with their families.
Speaking of, if you know someone who needs a better job, we probably have a spot for them.
Serious Savings
Our primary service is discount programs. We help consumers save a ton of money on behalf of our clients, which in turn delivers engagement, retention, and acquisition.
When it comes to saving money, this year went really, really well. Across our client organizations, Access helped consumers save tens of millions of dollars.
That's a lot of dough!
Here's how we do it: With 300,000+ merchant partners, we have a local deal within a few miles for 99% of the US population (even in Pointe Hope, Alaska). Among the most popular merchants in 2017 were RedBox, Six Flags, and Extended Stay America.
As far as single location merchants go, our deals at Walt Disney World blew the field away. Lest you think national attractions are the only Access brands that enjoy crazy amounts of traffic, we also have an incredibly popular Bob Evans near the Ohio State campus in Columbus, Ohio – one among many such restaurants throughout America.
In case you're curious how we leverage a bunch of discounts into customer engagement and retention, check out our case studies page, which features real examples of our services in action.
New Products, New People
We've never been content to just have the largest discount network, or even content to have 90%+ client retention. No, we want a highly relevant and user-friendly network, and clients that aren't just happy, they're Access advocates.
About the discount network: we brought in a user experience guru, Chris Doxey, to make our web and mobile properties super friendly to consumers. Chris and his team are also building a travel booking platform we think you're going to love.
And with regard to client retention - Emily Hayes and our Customer Success team have embedded themselves with our clients with fantastic early results. Her article about what she's learned during this first year is a must-read for anyone in search of higher customer loyalty.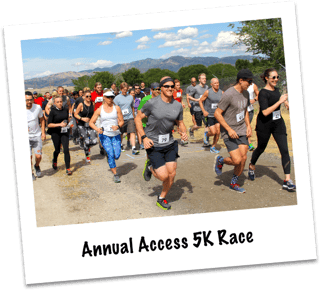 If you're looking for more to read, be sure to download our ultimate guide to discount programs. We took (almost) everything we know about discount programs and condensed them into 40 or so pages. It's yours; no charge.
In April we transitioned our fundraising division from TriQuest Fundraising to Access Fundraising. We also launched a crowdfunding platform, WeFundThem, that offers higher profits for fundraising organizations plus Access discounts for donors. One of their first clients? Kiwanis Key Clubs!
Oh, and remember Access Perks, the employee discount program we launched a couple years ago? That product has grown rapidly and is quickly eating up big chunks of the employee benefits and perks market. Go check out that product's recap here.
Big Plans for 2018
As good as 2017 was, 2018 is going to be bigger and better! We have a lot of surprises in store for our members, including a refined user experience (see the section above) and revamped mobile coupons app. Keep an eye out for that travel tool as well.
We're putting in some serious work on our network, with a rigorous focus on our most popular deals and categories. Yeah, brick-and-mortar dining deals are the toughest deals to secure - we're still going to bring more of them to your phones and browsers.
Also, we're doubling down on member experience with our merchant partners by taking serious steps to eliminate coupon non-compliance. Look for more merchant engagement and education in 2018, as we seek to boost our already high compliance rate.
And if they don't comply? They probably won't be part of our network much longer.
Thanks for Joining Us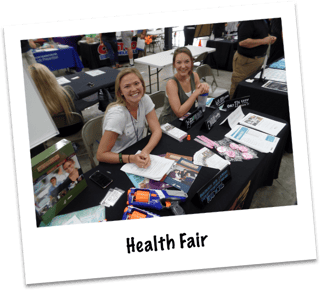 If you're reading this, you're part of our extended family. We're appreciative of you and the role you play in the pursuit of better customer relationships and building profitability the right way: by building relationships and improving lives.
The best businesses are all about adding value to their customers, their communities, their industry, and the world at large.
That's what we try to be about, and we're grateful you've chosen to join us.
Happy holidays to you and yours,
Your Friends at Access Development
*In Loving Memory of Our Friend and Colleague Dave Cook*
Topics: Access Development
Brandon is a former writer and marketer for Access Development. He's a frequent blogger on customer and employee engagement & loyalty, consumer trends, and branding. Connect with him on LinkedIn or Twitter at @bscarter