Gary Toyn
The Two Types of Loyalty, and How to Earn Them
Summary: Learn about transactional and emotional loyalty, and how to earn them. Understand the importance of customer involvement, empowerment, and recognition to build emotional loyalty. Discover the science behind emotional loyalty and the key behaviors that connect businesses with customers on a deeper level. Find out how engagement and communication build loyalty.
About a 6 min read

After weeks of anticipation, I finally had the opportunity to take my wife to the hidden gem of a Greek restaurant. It felt like my very own secret spot, even though I had no ownership or association with it, except for the fact that I stumbled upon it in a nondescript strip mall just a short distance from our home. The moment we stepped inside, I knew it was going to be a memorable experience. The food was simply extraordinary, the service was warm and friendly, and to top it all off, the prices were incredibly affordable. It was the perfect combination.
As the food was brought out, anticipation bubbled within me. I eagerly watched as she took her first bite, hoping that she would share in the same love and excitement that I felt for this hidden gem of a Greek restaurant.
But as she chewed, her expression remained neutral. I couldn't help but ask, my voice filled with hope, "Isn't it just the best you've ever had?"
Her response hit me like a dagger. "It's...really dry."
At that moment, disappointment washed over me. My emotional connection to this restaurant had been shattered, as my wife didn't see it in the same light. While she didn't hate it, she simply didn't fall in love with it like I had.
Despite this disappointment, I continue to visit the restaurant frequently, and sometimes, my wife joins me. Our experiences serve as a reminder of the two primary types of loyalty in the world: transactional loyalty and emotional loyalty.
I was completely smitten with that restaurant, but sadly, my wife didn't share the same level of enthusiasm. She didn't despise it, but she just didn't have the same love affair with it as I did.
Nevertheless, I still frequent this place regularly, and occasionally, my wife joins me. Our experiences perfectly exemplify the two main types of loyalty in the world: transactional loyalty and emotional loyalty.
Transactional Loyalty vs. Emotional Loyalty
Emotional loyalty is the ultimate form of loyalty, where consumers are devoted to a particular brand regardless of price, convenience, or other external factors due to their deep personal connection with the brand.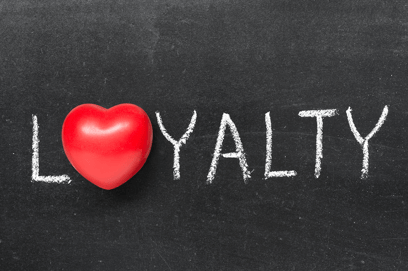 In my case, I developed a strong bond with the restaurant because I was one of their first customers, had the chance to meet the owner and establish a connection, and, of course, the food was absolutely delightful.
Transactional loyalty, on the other hand, is slightly different. It typically involves customers choosing a retailer that is conveniently located or offers consistently lower prices. However, when circumstances change, such as a new retailer opening even closer to home or offering similar food at lower prices, customers may feel enticed to spend their money elsewhere. In the case of my wife, she chooses to dine at "my" Greek restaurant because of its convenient location and the fact that the food is satisfactory. (Although, I may occasionally persuade her to join me.) However, if there were another Greek restaurant that was closer to home or offered better value, she would be more inclined to try it out.
Transactional loyalty is totally underrated. I mean, come on, loyalty is all about where the consumer is splurging their hard-earned cash, right? We all daydream about having a brand that can cater to the needs of the masses, but let's face it - every consumer is different and every experience is unique. But here's the kicker, most emotionally loyal folks probably started off as good ol' transactionally loyal customers.
Emotional loyalty is the summit of the mountain, though. That's when people go out of their way to spend with a particular brand, when they feel like they're part of it and want others to feel the same.
The Science of Emotional Loyalty (or Lack Thereof)
A recent Nielsen survey showed that 78% of consumers are not loyal to a particular brand. It seems like every week in our customer engagement recaps there's another story about people bailing on brands in favor of prices. Purchasing decisions are being made less and less on emotion and more on a cold, hard ratio of pure bang-for-the-buck - just 25% of US consumers consider brand loyalty as something that impacts their buying behavior, according to Ernst & Young.
Emotional loyalty is not easily obtained. As we mentioned with a focus on retention vs. acquisition, it's an organizational commitment. It requires great in-store experiences, a product that delivers as promised, an engaging loyalty program (85% of consumers say companies could have recognized & rewarded them for doing business with them), a fair price point - and even then, there are no guarantees.
Emotional loyalty can't be purchased, but it also isn't entirely earned either. If there was an absolute formula for it - well, that'd be a big mess of stubborn consumers.
Three Emotional Loyalty-Earning Behaviors
While there isn't a definitive science to earning emotional loyalty, there are some best practices that businesses can implement to establish a deep connection with their customers. By incorporating these three behaviors into the core values of a company, they have the potential to win over a large number of loyal fans.
1. Customer Involvement
People need to know the organization they're doing business with. What are their values? Do your values match theirs? A bit of organizational transparency helps people feel like they're part of the overall effort. This is especially true for young adults, 80% of whom prefer to do business with an organization that supports good causes.
This also means being an organization that is highly responsive to customer needs. Poor customer service is often the main reason why people abandon a brand.

If customers are dissatisfied with any aspect of a brand, it is important to listen to their concerns and address them. It may seem obvious, but many companies still struggle with this.
2. Customer Empowerment
Make it your mission to embed your product or service into the lives of your customers. That means constantly engaging with them and creating opportunities for them to become experts in using what you have to offer. Involve your customers in shaping every aspect of your business, from product development to marketing.
This point also goes back to number one - customers need to feel like they have a say. If a business wants its customers to go all-in on loyalty, the entire organization needs to go all-in on serving their needs.
3. Customer Recognition
Customers crave personal recognition and a sense of importance. This can be achieved through various tactics such as store managers making an effort to learn and use customers' names and preferences. It could also involve offering a guest's favorite wine upon check-in at a hotel or sending a personalized text message just before a sale. These strategies humanize a brand and foster strong relationships with customers. Although challenging to scale, the effort is undoubtedly worthwhile.
On a grander scale, loyalty programs are a fantastic way to achieve this. Now, I know some may dismiss loyalty programs as simply "buying" loyalty, but let's get down to brass tacks: a well-crafted, thoughtful program can streamline recognition and rewards. And guess what? A whopping 85% of the population wishes they were acknowledged for their purchases. So, incorporating an effective loyalty program into an organization that genuinely cares about its customers is the key to capturing both transactional and emotional loyalty.
The Engagement Factor
Constant relevant communication that provokes engagement is the final element of these three characteristics. As we've mentioned, loyalty is in part a result of frequency. Emails, texts, branded apps, mobile coupons, and even printed newsletters are all important to cut through the clutter and remind people of brand value.
The bottom line is customers need to know how they're being impacted by associating with a brand. The organizations best able to form that relationship are the ones who'll be in a position to have the feeling reciprocated.
In the future, my wife might develop a stronger connection with the Greek restaurant. A life-changing souvlaki might not be necessary for this to happen. It could simply be because she is close to someone who advocates for the brand (me!), or it could be that the owner knows her by name and offers her complimentary appetizers that he thinks she will enjoy.
Or, she may never go beyond the occasional customer who stops in for a convenient take-out dinner.
Which is still a pretty good customer to have.
---
Topics: Customer Engagement, Customer Incentives, Mobile Coupons, Member Benefits, Access Development, customer service, customer loyalty
For 25+ years Gary Toyn has helped organizations large and small improve their constituent/member acquisition, retention and engagement. He's a multi-published author, writer, and researcher.