Gary Toyn
White Label Travel Platforms: The Ultimate Buyers Guide
How to Vet and Select a White Label Travel Portal / Private Label Travel Booking Engine
Want to know how to identify a white label travel solution for your company/organization? This comprehensive buyer's guide provides the information and tools you need to assess and select the best platform.
About 19 min.
Who Should Use This Guide?
---
Whether you're an executive looking to attract more customers and increase retention rates, or simply someone interested in learning how a branded travel platform can boost loyalty and revenue, this article has got you covered.
This guide is for anyone interested in association benefits, member engagement, customer engagement, new business development, affinity group benefits, travel agent platforms, travel club benefits, credit union benefits, cash-back platforms, and consumer rewards platforms.
What You Should Learn:
In this guide, we'll help you identify the best white label travel platforms so that you can confidently evaluate competing products. By the end, you'll have a better understanding of how these programs work, why they differ, and which features can have the most impact on your organization.
What is a White Label Travel Platform?
---
A white label travel platform, white label travel portal, white label hotel booking engine, or private label travel website. What's the difference? Frankly, they all mean the same. Some may quibble about the technical differences between a co-branded travel platform and a travel booking engine, but for our purposes here, we'll use white label and private label interchangeably, the definition being: white label travel platforms are travel booking software products built by one company and rebranded and used by another company or organization.
In that spirit, an effective white-label travel portal is a plug-and-play solution that allows an organization to offer hotel bookings, car rentals, flights, and even sightseeing reservations in a seamless user experience.
In the interest of simplicity, we'll focus on the most popular feature of a travel booking platform...the hotel booking function. In a white-label travel platform context, hotel bookings will usually drive the most engagement and revenue.
The Online Travel Booking Landscape
---
The online travel booking industry's potential for growth is truly exciting, especially in the United States, which is the world's largest travel market. In February 2023 alone, the industry generated a staggering $93 billion. Looking toward the future, the travel industry is expected to continue growing at a rapid pace of nearly 15% per year globally. It's hard to believe that not too long ago, booking a flight or rental car meant picking up a landline and calling a travel agent. Oh how times have changed!
Since then, online bookings have exploded. Back in the early days, the competition was stiff between online travel agents (OTAs) and you could find some amazingly low rates. Now consolidation has resulted in less competition, and rates have stabilized over time. We'll talk about why in a minute.
If you're like most people, we each seem to have a preference for which OTA we like to use to book our own hotel, car rental, and flight reservation. Some insist they find the best deals on Hotwire® or Hotels. com® as opposed to Expedia or Travelocity®. Others may swear by Kayak® over Priceline® or Booking. com.
But few people are aware that the OTA market is dominated by Booking Holdings (BKNG), (formerly called Priceline), and Expedia Group (EXPE). The bottom line is, between the two, they control 95% of the OTA market.
As a matter of fact, when you look at who owns which OTA, you can see how powerful these two OTAs truly are: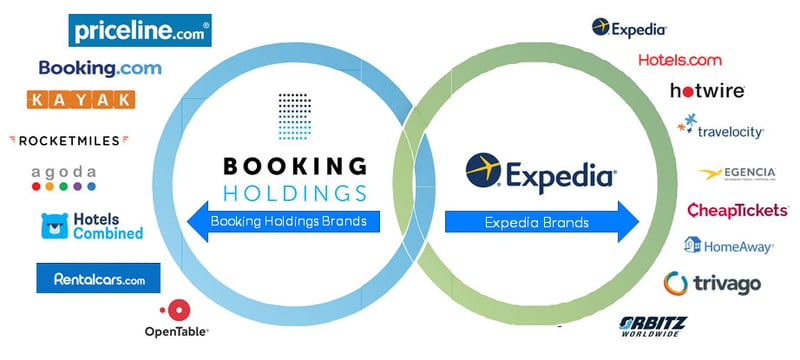 Booking Holdings and Expedia Group are the two biggest players in the online travel industry. Booking Holdings owns well-known brands like Priceline, Booking.com, and Kayak, as well as other subsidiaries, while Expedia Group owns Hotels.com, Hotwire, and Orbitz, among many others. As these OTAs continue to dominate the market, it's important to consider their impact when selecting a white-label travel portal. Both companies rely heavily on their white-label products, with Booking.com's white label alone accounting for a staggering 53% of their annual revenue. However, it's important to note that there are alternatives.
Online Travel Booking: Retail Model vs. the Wholesale Model
---
When it comes to how the hotel booking industry operates, there are two primary types of business models. The Retail Commission Model, and the Wholesale Merchant Model. Let's first look at the most common model used for the vast majority of hotel bookings.
The Retail Commission Model
On the surface, this model seems pretty simple. A hotel pays a commission to someone who delivers a room buyer who didn't book it on the hotel's own website. However, it gets a lot more complicated when you consider how powerful these OTAs have become, and how willing they are to leverage that power. That's not to say they are somehow being unethical. It's just that their focus is on the consumer, not on a hotel or a chain of hotels. With over a million hotels, resorts, and rental lodging properties worldwide, they have no shortage of supply. And since the hotels don't buy their product, the OTAs are not focused on serving the needs of hotels.
To add to their challenge, more and more hotels can't attract enough business themselves, so they have few better options than to plug into the OTAs distribution and marketing machine to help them sell their room inventory. This can be a double-edged sword. On one hand, they can sell more rooms through the OTAs. But on the other hand, they're sacrificing a significant percentage of their revenue to the OTAs just to sell those rooms. Consequently, their margins are very thin.
Some of the larger hotels are pushing back; hotel chains like Hyatt®, Marriott®, Hilton®, and Wyndham® are heavily promoting their "book directly" campaigns. Hotels can save a lot of money if they can get you to book directly. They'll offer great incentives to convince you to book directly rather than on an OTA's site. These chains also have the money to put into marketing aimed at convincing customers to book directly, and in return, they give guests certain perks for doing so. The result has caused Expedia to launch a feeble attempt to argue against direct booking, saying that booking directly actually hurts hotels. Needless to say, their argument has not resonated with consumers.
For most other hoteliers, their profit margins are already small, and that means they don't have a lot of resources to build a robust, user-friendly website to the level that competes with the OTAs. Not to mention having the know-how to build their own sophisticated SEO strategy. That's why paying a large commission to an OTA can often deliver enough ROI for them to survive.
But lately, the OTAs are putting a bigger squeeze on these small and medium-sized hotels, forcing them to cough up even more in commissions, more than the average of 30% commission. To add to the pain of these smaller hotels, the bigger corporate hotels usually pay an average of 15% commission, giving them an even greater competitive advantage.
Rate Parity and Other Strategies
The OTAs are aware that price is the primary factor influencing hotel purchases. To ensure they always offer the lowest price, they implement a Rate Parity clause in their contracts. This clause requires hotels to provide the same rate across almost all their distribution channels, with the aim of preventing the hotels from undercutting the OTAs on price, even if it means the hotel makes little or no profit.
That's why there's so little price difference from one OTA to the next.
When you consider that most OTA's make between 15% to 30% commission on every hotel reservation, you can imagine the type of revenue these companies can generate. For a quick reference, Booking Holding's market cap is $97B, and Expedia's is $14B.
"The purpose of rate parity is to prevent the hotels from undercutting the OTAs on price. Even if it means the hotel make little to no profit. That's why there's so little price difference from one OTA to the next."
With that kind of size and influence, is it any wonder that Expedia and Booking Holdings are among the largest ad spenders on Google? They spend as much as 50% of their profit on marketing, all aimed at attracting hotel shoppers.
And they're very good at it.
They know how to reach buyers, how to generate interest, and how to use sophisticated SEO strategies to convert leads to sales. They're especially good at convincing buyers that they're getting a good deal.
One of the tricks they use is to make you think you're getting a better deal than everyone else. To accomplish this, they'll show you comparable rates among their sister companies. For example, when booking a hotel on Expedia, their room rate will be compared to the same room on Travelocity or Orbitz (OTAs owned by Expedia). So you may assume they showing you a competitor's rates, but all they're doing is comparing rates with OTA's they control. It's really not a true comparison. And with rate parity, you're still not going to see any significant savings on room rates anyway.
If they're not comparing rates among their sister companies, you'll often see OTAs give you a comparison against the "rack rate," or the maximum price for a category of rooms. Unless you're showing up at a hotel and are desperate for a room, nobody pays the rack rate. But when they offer their "discounted" rate next to the rack rate, it appears like you're getting a great deal.
It's important to note that OTAs often prioritize hotels that agree to pay higher commissions, sometimes exceeding 30%. These hotels get preferential placement on the OTA's website, ensuring they appear at the top of search results. Unfortunately, this means that you may not always see the best rates at the top of the page. Hotels that refuse to pay these higher commissions are often relegated to the end of the search results or may not appear at all. It's crucial to shop carefully on these sites to ensure you're getting the best deal possible.
One tactic used by OTAs to sell empty rooms without compromising their brand integrity or pricing structure is offering opaque rates. These non-transparent rates are often implemented through a bidding process like Hotwire, and upon entering the desired location and date of stay, the search results will hide the hotel's branding, address, and other features. While not everyone may be adventurous enough to book such a rate, it can sometimes work out and save the user some money. However, it requires the user to trust that the hotel is not a dive or located in a sketchy neighborhood, and once confirmed, the reservation cannot be modified.
These and other strategies have forced many hotels to start showing a BAR (Best Available Rate,) when quoting a price. In a nutshell, the BAR is the lowest rate given to any guest for a specific date. It helps hotels offer greater transparency so guests can see what the hotel is actually charging, as opposed to what the OTAs have concocted through their own pricing schemes.
It all points to a significant advantage these big OTA's have over their competition. If your white label booking platform is powered by an affiliate feed from Booking Holdings or Expedia, don't assume you're going to get their lowest rates.
The Wholesale Merchant Model
An important alternative to the Retail Commission Model is the Wholesale Merchant Model. This model is available to companies like big tour operators, large group bookers, FIT companies (Foreign Incoming Travel), airlines, bedbanks, etc. It also includes some hotel aggregators, which is a term reserved for companies that serve a very technical function for the industry. But, for simplicity's sakes, we'll call all these large travel entities "aggregators" for now.
It's likely you've never heard of these aggregators. That's because they are huge B2B companies that don't have high name recognition with the public. Most don't offer a direct-to-consumer UX/UI product. They deliver their content to enterprise-level clients via an API feed. That way, those who can play in this space must have the resources necessary to invest in hiring developers, programmers, and other IT specialists so they can consume the aggregator's complex API development requirements.
Aggregators buy hotel rooms in large quantities, on condition they get the hotel's net rate. The net rate is the absolute lowest rate the hotel can sell a room, and still be profitable. Hotels don't give the net rate to just anyone. They'll only give that rate to an aggregator because they buy a lot of rooms in bulk. For example, they'll purchase an entire floor for a month, or they'll buy a block of rooms for a season. This way, the hotelier can justify giving the net rate in exchange for guaranteed revenue for a certain segment of their inventory.
"The net rate is typically not subject to the rate parity restrictions required by OTAs. This allows hotels the flexibility to be even more aggressive in their pricing of these rooms, adding even greater savings potential over the OTA's retail prices."
Buying rooms at the net rate also offers the aggregator a couple of other benefits. One, they exclude the typical commission, which means these rooms are at least 15%-30% lower than the OTA rate. Secondly, the sales and room taxes are calculated at a lower rate. Best of all, the net rate is typically not subject to the rate parity restrictions required by OTAs. This allows hotels the flexibility to be even more aggressive in their pricing of these rooms, adding even greater savings potential over the OTA's retail prices.
Among all those who qualify to get their hotel inventory from an aggregator, only a small number of travel wholesalers actually offer a white-label travel product.
So if you would like to offer a travel booking solution to your audience, the only way to give your members direct access to wholesale rates is to make sure your white-label travel portal is powered by a wholesaler, such as Access®, or a similar type of company that competes in this space.
These wholesalers usually have the same inventory as the large OTAs, and consumers would see little if any difference between the available inventory and the overall booking experience. Except for the price. You decide if you want your audience to see a retail rate or a wholesale rate.
Business Objectives of White Label Travel: Loyalty vs. Revenue...or a Little of Both
Once you've decided whether your white label travel platform will offer retail or wholesale rates, you still have another decision to make. It relates to the value you want to offer your audience from your online booking engine.
It all depends on what you are trying to accomplish by offering a white-label travel booking platform.
For some organizations, their goal is to add compelling value as a tool to boost loyalty and engagement. This could work for non-profit associations, trade associations, alumni associations, and other types of membership groups looking to add value to their association benefits, as a means of boosting member retention, engagement, etc.
For others, a white label travel platform is an attractive tool to generate incremental revenue. This could include groups who want a loyalty and rewards platform. That includes banks and credit unions who have exhausted their revenue streams from accountholder fees and service fees, and are looking for new streams of revenue. It becomes a way for them to compete with large banking institutions with a ton more money to throw at driving account holder revenue.
It could work for any type of organization that must deliver value to its audience but needs ongoing revenue streams to keep growing.
And still, for other types of groups, white-label travel platforms are about trying to do a little of both: enhance their member benefits and also make a little money as well.
So let's take a look at the two primary options for serving up your travel discounts:
White Label Travel Platforms: Instant Savings vs. Cash Back
---
Instant Savings Option
For organizations interested in offering compelling value as a way of boosting member loyalty and engagement, the best way to achieve this is to pass along all the available savings to the end users.
For example: let's say someone from your group books a weekend at a hotel in Las Vegas, and instead of paying the typical $500 they would see from an OTA, they get a rate of $400. That $100 in savings is instantly applied to the final price upon checkout. Bada bing bada boom. Instant savings equals a happy user.
This instant savings option has many meaningful advantages:
It has the greatest impact on user engagement and retention.
It incentivizes users to return to your website more often.
It offers great value to your existing suite of user/member benefits.
With typical savings of 15%-50%, the savings can differentiate your organization from your competition.
When members save money, it generates goodwill that can be leveraged to impact retention and boost referrals of their friends and family.
Cash Back Option
The cash-back model is a relatively new feature among white-label rewards programs. This model gives the users a cash-back amount credited to their account after they've booked their reservation.
The available cash-back amount for each booking can be divvied between the user and the sponsoring organization.
Example 1: a user books the same Las Vegas hotel and pays $500, but receives a credit of $100 in the form of cashback, posted to their card after confirming their reservation.
Example 2: a user books the same hotel and pays $500, but is offered $80 in the form of cashback posted to their card after confirming their reservation. Behind the scenes, the sponsoring organization makes $20 from the transaction.
The typical split between the user and sponsoring organization can vary. In most cases, the sponsoring organization will realize between 10%-30% of the total transaction, but this amount is usually negotiable.
This cash-back option has these advantages:
Delivers a high-value rewards program that's unique in today's marketplace.
Can deliver an engaging benefit that also generates incremental revenue.
Allows you to deliver a cash-back product, a familiar and compelling user benefit.
Gives users significant cash back rewards ranging from $50, $100, and even $150 per night.
Gives banks or other financial institutions the ability to limit transactions to a specific card using BIN suppression.
Gives card providers the ability to generate significant interchange fees from high-dollar hotel transactions.
White Label Travel Platforms: Key Questions to Ask
---
The features of a white label travel platform can vary widely. Some offer the bare minimum of services and support for your organization, while others offer a wide variety of value-added services. When vetting different programs, don't be afraid to be direct, and ask these important questions:
Do they have global inventory pricing?

Does your private label travel portal offer a global inventory, with familiar hotel brands in all the popular destinations? Do they offer a range of properties within a wide spectrum of price points, including 5-star resorts, to business class and economy hotels? Do they offer boutique hotels, as well as Bed & Breakfasts, home vacation rentals, cabins, beach houses, hostels, and other unique properties? How many countries do they serve? With over 1.5 MM hotels, resorts, inns, and B&Bs worldwide, how many properties do your provider boast about on their network? What types of properties don't they include and do they have a business reason for limiting their inventory?

Is their travel booking site private labeled for you?

It's your audience…and your travel platform should reinforce your brand. Does the travel booking platform look like your organization? Will your audience instantly recognize it as you? Does the travel portal feature your logo and color scheme? What other types of branding options do they offer?

Do they offer an integrated payment gateway?

Can your customers/members seamlessly book their travel once they submit their reservation and payment info? Is your white label travel platform the "merchant of record" when the transaction is made? Do they process the transaction properly and then instantly send a confirmation to the user? What if there's a problem with the customer's credit card, or what if the reservation is canceled for some reason? How do they offer refunds? Do they give an instant credit back to the user's credit card, or do they force the user to receive a company credit toward future purchases? (See customer service below.)

Is it scalable from the get-go?

Does your provider have a scalable product that works for organizations large and small? Do they have a proven and time-tested team of developers? Are those developers based in the U. S. or overseas? Will your booking engine work correctly the minute they turn it on? Can it grow with you as your organization grows? Nothing is worse than having launched your platform and having to pause or re-launch it a few months later because your provider found a bunch of bugs. What is their guaranteed uptime? Is it less than 99.9%?

What is their experience with travel content mapping?

Because each aggregator serves up its API data solutions differently, there's bound to be conflicting data and duplicate search results. How does your white label travel platform organize all the numerous points of critical hotel data they collect from multiple channels, and how do its algorithms expose that information to your members? That includes such things as room rates and types, arrival dates, room photos, online reviews, room availability, etc. How often do they refresh their data? What happens when the same room is listed as being available, but in fact, an OTA sold the room a few seconds before? How does your provider's solution resolve such issues? How do they prioritize which rooms will be at the top of the search results? What other built-in mapping tools have they implemented?

Do they have a simple and intuitive UX/UI?

Because Expedia and Google® have set the bar pretty high when it comes to our expectations for a travel booking engine, does your white labeled travel platform at least meet that standard? Are you able to give the UX/UI a thorough test drive and put it through its paces? Are you confident that the UX/UI is intuitive, or is it clunky and a pain to use? Consumers demand ease and convenience from any merchant they patronize. What about the check-out portion of the UX/UI? Are your users forced to wade through a flood of terms and conditions upon checkout? Is the checkout process frustrating and forgettable? Can you bundle a hotel, car rental, and flight all in one transaction?

Do they offer a mobile app or just a mobile responsive website?

Does your provider offer a dedicated mobile app, or is their platform simply a mobile-responsive website? Have they opted to create mobile responsive web design because it's cheaper and faster to create? If so, are you prepared to deal with the associated lack of both speed and functionality as compared to a dedicated mobile app? Has your provider invested in developing a stand-alone mobile app (which is typically far more expensive to develop, test and iterate)? Does it offer SMS push notifications to confirm a booking? What does their app do to help drive ongoing usage? Does it offer show-your-phone mobile coupons?

Do they offer other travel-related benefits as well as everyday discounts?

Do they have a direct relationship with popular theme parks like Walt Disney World®, Disneyland Resort®, and Universal Studios®, and allow you to book your vacation tickets directly AND at a discount? What type of value-added benefits do they provide to entice your users to visit your site in-between vacations or business travel? Do they offer more than just hotel, car rentals, sightseeing tours, etc. ? Can they keep your users engaged so they can save at everyday places like restaurants, big box stores, and main street retailers, as well as auto services, movies, entertainment/recreation discounts and more?

How good are their customer/member services and support?

This one is huge. Does your white label travel platform offer high-touch customer/member support, or do they only offer self-help and "user-retrieved" assistance? Do they charge members for calling customer service? Do they offer only basic-level customer support, or can you escalate a case to a higher tier?

How fast do they provide timely and accurate refunds? Do they communicate with your members/customers about billing issues, or do they just let users discover a problem on their own? Do they provide 24/7/365 live customer service and support for each hotel booking, car rental, and flight reservation? Are their call center reps U. S.-based? Are they native English-speaking representatives? Will your organization have a customizable toll-free number, and if so, will your provider answer each call as if it was your organization answering the phone? Do they also offer alternative communication methods such as web chat, SMS texting, and email support?

If you really want to step it up to the next level, ask if your provider offers courtesy pre-arrival hotel confirmation for each reservation. This level of customer service is truly game-changing, as they can call a few days ahead to make sure each reservation is valid, and resolve any issues long before your member/customer arrives.

Do they offer multi-language web support?

If your audience is global, does your white label travel provider support the world's business languages? Not only should they support the world's 1.5 billion English speakers, but what about the 1.1 billion speakers of Mandarin Chinese, the 572 million speakers of Spanish, and 275 million Francophones? Do they support currencies other than just the USD, such as Canadian Dollars, Mexican Pesos, the Euro, and British Pound?

Do they manage your member data securely and confidentially?

Does your white label travel platform play fast and loose with your member data in order to get to your members so they can market other products or services? Are they SOC 2 compliant? Do they have a proven history of successfully managing complex security demands for large corporate clients with sophisticated data security procedures and protocols?

Can they provide you with documentation relating to their data protection and retention policy, their data encryption and key management policy, and their company's acceptable use policy? Will they provide documentation about their PCI compliance?

Do they use a well-known, established production application infrastructure for things like firewalls, routers, application servers, database servers, physical and environmental security, etc.? Are they willing to provide you with that documentation?

Do they offer dedicated onboarding, technical, and client success teams?

What type of experience does your provider have with launching a white label travel booking engine? Do they really understand the intricacies of this process? Do they have a team of people dedicated to your specific onboarding and launch process? Will they oversee all the technical requirements, and also all the other requirements of maintaining the ongoing success of your program? Will they conduct regular account reviews and monitor key performance indicators? Do they charge for services like built-in analytics with member-level reporting? Do they offer suggestions about how to make adjustments to improve the success of your program?

Does your provider support a secure Closed User Group (CUG)?

Is your provider dedicated to providing a true closed user group? Or are they casual about letting interlopers break in and use your platform, as a means of generating additional commission revenue? Hotels and car rental companies reserve their best discounts for a CUG, that way their best discounts aren't exposed to people who would otherwise pay full price. When the general public has access to the same discounts you offer on your travel portal, you can be sure you're not going to offer much in the way of compelling discounts that can attract and engage your audience.

Do they offer marketing and promotional services?

Does your white label travel solutions provider actively promote your travel savings to your members through email, social media, printed materials, etc., or is your staff expected to create and execute the marketing strategy? How does your provider view ongoing education? Are they experienced in getting users in the habit of going to your website to book their travel needs? Do they offer other types of marketing assistance? What are their email automation capabilities? What's their sending reputation? Can they surprise and delight your travelers both before, during, and after their trip?

Do they want to be a partner or just a vendor?

How invested are they in the long-term success of your program? Do they work behind the scenes to make sure your travel platform has compelling content and performs as well as possible under adverse conditions? Are they making constant improvements to their booking pages so they convert at higher rates? What other types of routine improvements do they make?
White Label Travel Solutions: Final Word
---
White-label travel platforms come in many shapes and sizes. Now that you have some insight into how the industry works, you'll be better positioned to make the best decision for your organization.
In full disclosure, I am employed by Access which offers a white-label travel portal. Despite my best efforts, I can't completely eliminate my cognitive biases about which travel platforms I think are best. On the other hand, critics should also acknowledge that I've spent nearly a decade studying different types of programs and I've learned a thing or two about how how to identify the characteristics of a good consumer discount and travel program. That's my role at Access, to research and write about products in this industry, and provide our senior management with an unvarnished assessment of how Access stacks up against our competitors.
I'm sharing this research with you, hoping to provide you with the tools you need to make an informed business decision. I'm confident that by sharing my findings with you, you will, at a minimum, view Access as a serious contender among any other platforms you may consider.
Feel free to reach out to me with any questions or issue you have with my research and findings. And because I'm just a writer, I'm happy to answer any questions you have without an uncomfortable sales pitch. If you'd rather speak directly with a business development/sales professional, go here.
Industry Terms
---
Hierarchy of Hotel Rates:
Rack rate: The highest price a hotel charges for a room before any discounts. Typically this rate is set artificially high, so when discounts are applied, the final rate looks generous by comparison.
Retail rate: This rate involves a hotel's most common public rate, with some discounts applied off the rack rate, usually about 5%-15%.
Opaque rate: A non-transparent rate that allows hotels to offer discounts without having to expose their public price position. Usually, this type of pricing is implemented in a bidding process (such as is common with Hotwire) where the hotel's branding, location, star rating, or other feature is hidden prior to booking. Once the reservation is made, the hidden information is revealed, but no changes can be made thereafter. Discounts can range from 10%-20% or more.
BAR (Best Available Rate): The BAR is the hotel's lowest available rate of the day. This rate is open to the public and usually does not require pre-payment or cancellation penalties outside their typical policy. This rate was created to respond to the complex pricing strategies imposed by online travel agencies. Usually, this price is between 10%-25% off the rack rate.
Wholesale Rate: this is the rate offered by a wholesaler, who purchases multiple blocks of rooms at a discounted rate (see Net Rate). After a small markup, this rate is typically 15%-50% lower than the retail rate.
Net Rate: This is the lowest rate for a room that the hotel will offer, while still maintaining the profitability of the room. This rate is usually made available only to B2B bulk-buying wholesalers, (See bedbank or aggregator) who pre-purchase multiple blocks of hotel rooms at bulk rates, then sell each room B2C at a wholesale rate.
Gross Room Rate: The total revenue a hotel can generate from a single room for one night. This includes all forms of revenue, such as that derived from resort fees, loyalty program rewards/points, breakfast fees, parking fees, etc. It excludes taxes, rebates, refunds, credit transactions, etc. This, plus the typical markup, is the basis for how they calculate the Net Rate.
Other Terms Mentioned in this Article:
Affiliate Supplier: A hotel supplier that sells its hotel inventory to a third party at a discounted rate. Typically they charge more than the wholesale rate, but usually less than the retail rate. They often sell their inventory through white-label travel platforms for companies and organizations.
Aggregator: A type of hotel service provider that acts as the technology hub. It searches many different sources offering hotel accommodations, then collects and disseminates the most pertinent information in a single search query for its B2B clients.
Bedbank: is a B2B company that typically buys discounted room accommodations in bulk, at the Net Rate, then sells those rooms to travel sellers such as wholesalers, travel agents, airlines or tour operators, etc.
BIN suppression: The BIN stands for Bank Identification Number. It reflects the first four to six numbers on any payment card to identify a banking or financial institution, which is critical in matching a transaction with the card issuer. BIN suppression is a feature that limits transactions to a specific BIN, so a financial institution can control which cards can make purchases on a specified site.
Co-branded travel booking site: a travel booking website created for an organization (such as an association, company, or group) by an Affiliate Supplier or Wholesaler. This site typically bears the logos or names of both the organization and an Affiliate Supplier/Wholesaler. This strategy is aimed at leveraging the influence of both brands.
Co-branded travel booking engine: See Co-branded travel booking site:
CUG: A Closed User Group typically consists of members of an association or group, where members are required to log in and be authenticated prior to having access to exclusive discounts or rates. CUGs are used to prevent hidden discounts from being exposed to customers who otherwise are willing to pay a higher price.
Interchange fees: A fee all merchants are required to pay with every credit card or debit transaction and is paid to the financial institution that issued the card. That rate can vary between 2% for credit cards, and 0.3% for debit cards.
Merchant of Record: any business authorized and legally liable for processing a credit or debit card transaction. It is responsible for being PCI compliant, following the rules established by financial institutions, and complying with all local and international tax laws.
OTA: Online Travel Agent/Agency is an e-commerce business whose online properties allow travelers to book hotels, car rentals, flights, cruises, sightseeing tours, activities, and other related services. The two largest OTAs are Booking Holdings (BKNG), (formerly called Priceline), and Expedia Group ( EXPE).
PCI compliance or PCI DSS compliance: Payment Card Industry Data Security Standard are security standards created to make sure all companies that accept, process, store, or transmit credit card information, do so in a safe and secure environment.
Private label SaaS: (see White Label SaaS)
Rate Parity: A clause in which the OTAs require hotels to offer the same rate across almost all of their distribution channels. This is designed to prevent the hotels from undercutting the OTAs on price. Net Rates are not typically subject to Rate Parity, but this practice is under scrutiny by taxing authorities.
Retail Commission Model: Typically an OTA sells rooms at a public rate, and earns a commission (ranging from 15%-30%,) for selling the room.
SaaS: Software as a Service. A popular cloud-based computer application where a service provider hosts its entire software product online, and little, if any sources of the application reside on a local computing device.
White label SaaS: A software product that is built by one company, for the purpose of being rebranded and used by another company.
Wholesale Merchant Model: Typically a wholesaler purchases room accommodations at the Net Rate, and sells those rooms at a wholesale rate to its B2B clients via a white-label travel platform or API feed.
Wholesaler: A B2B company that buys hotel accommodations at the Net Rate from a bedbank or aggregator, then adds additional value, such as the infrastructure required to support a white-label travel platform, and then sells those rooms at the wholesale rate.
Topics: cash back rewards, Travel, member loyalty, membership benefits programs, membership discounts, membership benefits, member travel benefits, member incentives, online travel, white label, private label, turnkey, credit union benefits, white label travel platforms, white label travel solutions
For 25+ years Gary Toyn has helped organizations large and small improve their constituent/member acquisition, retention and engagement. He's a multi-published author, writer, and researcher.