Kendra Lusty
Your Loyalty Program's Secret Weapon: Superior Customer Service
Confession time. Whenever I have to call customer service, I always cringe, waiting for that dreaded phone tree before I ever get to talk to a person.
I think my record is 18 selections before I got frustrated and pounded 0, which wasn't listed but thankfully sent me to the operator anyway.
I prefer to use a company's website to find hours of operation, pay bills, and all the other automated tasks you usually find in a phone tree.
So unless one of your options is "If you would like to hear a duck quack" then I'm probably not going to find my answer automated in your system. No, if I'm resorting to dialing a number, I want to talk to a person, dang it.
Rant over.
If you think I'm extreme, think again. In fact, 74% of consumers said they are more loyal to a business that provides them with the option to speak to a human, than those that only support customer service through digital or self-service channels. Boom.
Ok, NOW rant over.
All employees have a stake in the member experience, but few interact with them at their most influential moments as customer service agents.
Businesses of all kinds could benefit from a second look at the level of dedication put into their customer service efforts. Those willing to step up those efforts can reap great rewards of elevated loyalty and member engagement.
Customer Service: Face to Face, Computer to Computer and Beyond
The customer experience encompasses every interaction with your product or service, with any employee whether in-person or otherwise, with any of your apps or technology, etc. It even includes the moments they think about your brand (hopefully with fondness) or discuss it with others.
Customer service is a vital part of the customer experience. Sometimes a single encounter can turn the tide – for better or for worse – in one's perception about a brand.
And yet there is a huge variance in how much effort businesses commit to dedicated customer service teams. This is especially true for "contact us" types of customer service. These are the options customers have to contact the company in case of a question or issue, including phone numbers, email addresses, and live chat.
What have the employees on the other end been trained to do? Do they know how to answer questions? Diffuse anger? Upsell? Escalate issues to other departments?
Hopefully, they're doing the very minimum to not make a touchy situation worse. But why set your standards so low? Imagine what a powerful department this could be if they were able to end every conversation with the customer feeling more appreciated than before.
Poor Customer Service Drives Members Away
One reason customer service efforts are sometimes neglected is because they aren't often reported as a reason new members join up. But all this does is prove that companies often place too much emphasis on acquisition. Member acquisition is important. A large number of new customers certainly looks impressive on reports.
However, those brands are forgetting the major impact customer service can have on member retention, which can actually be more profitable in the long run.
This fact is made pretty obvious by the overwhelming number of people who reported poor customer services as a reason to abandon a brand. The statistics below are just a few of many collected on this subject and listed on our ultimate loyalty statistics page.
While on the other hand…
73% of consumers said receiving good customer service from a retailer increases the likelihood they will spend more money than they had planned
50% of Millennials said that positive customer service interactions with a brand are very important in contributing to their brand loyalty
76% of American shoppers view customer service as a "true test" of how much a brand values them
Access Development, a company specializing in discount programs for associations and other membership groups, backs its products industry-leading customer support, which is available to all clients that sign up their members. Emily Hayes, VP of client success at Access development said that when talking to clients, they report that a higher than industry standard level of customer service gives them confidence. "It's extremely valuable that we can provide our clients with the comfort of knowing their members are well taken care of."
Great Customer Service: A Necessity for Loyalty Programs
While every business would benefit from enhanced customer service efforts, businesses with loyalty programs need them more than most.
These companies want to see members using and enjoying their member benefits often. After all, the entire reason to offer benefits in the first place is encourage greater engagement and affinity for the brand.
Any company that promises a great member experience as part of the package deal will only hurt themselves by ignoring the customer service component.
Sometimes the barriers that prevent members from using their benefits are simple issues that could be resolved with a little education or encouragement from a customer service representative. It could mean the difference between a lifelong member and one who deletes your app a day after downloading it.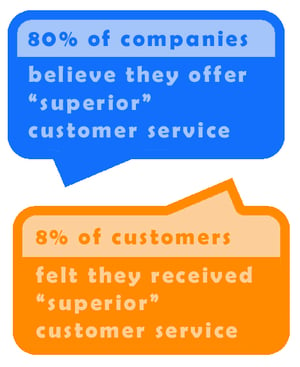 In a worst case scenario, one bad customer service encounter can destroy the experience, negating all positive products or services your business has to offer.
But what makes a customer service experience "poor" or "great?"
The funny thing is, businesses and their customers can't even agree on what constitutes great service. Consider that 80% of companies believe they are delivering "superior" service, while only 8% of customers felt the same.
Entrepreneur Peter Shankman built a successful business on the idea that "the customer experience is what is going to run the economy for the next 50 years." Now you may not have to give out your personal email address and phone number and personally answer every query as he does; however, a high level of personal touch is how you achieve an unbreakable bond with members.
Customer Service: Costly? Yes. Profitable? YES YES YES!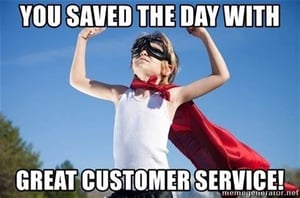 In a world where so many businesses treat customer service as a "cost center" and a necessary evil, those who develop a customer-centric business plan will be the ones that find success.
Still not convinced? Let me leave you with a few stats that show just how much a business can save by lowering churn and developing a deeper relationship with existing members
Make Your Customer Service Team Shine
If you're ready to take the next step and put your members first, stay tuned for next week's article, From Bare Minimum to Concierge-Level Customer Service: Building Your Arsenal. In it, we'll give you some of the tips and member engagement best practices Access learned along the way as we've developed our own top-performing team. We discuss all things customer loyalty, especially in regards to white label travel platforms which recent travel statistics show are in high demand (and also demand high levels of customer service.)
After all, the best discount programs all back their discounts with the most firepower in the form of great customer care. In the meantime, if you have any questions, feel free to post them below.
Topics: Customer Engagement, partnership marketing, Discount Programs, coupon marketing, customer service, coupon strategies, private discount programs, customer loyalty, Membership Organizations, loyalty programs, Employee Benefits
For over a decade, Kendra Lusty has been a writer for Access Development, and currently focuses her research and writing on topics related to loyalty and engagement.