Brandon Carter
How to Get Your Customers to Do Anything You Ask
Nobody likes popups on websites. They're intrusive. Invasive. Repulsive.

But they work.

Go to the most popular online marketing blogs right now, and you'll be assaulted from the moment the page loads.

The first wave hides the site from your view entirely, and pushes a full-screen message and form on you. You have to find an X or just scroll down to escape.

Then, you get to read a paragraph or two before the next wave hits - this time another popup, in case you missed the first one. Close that one, and now it's just a bunch of banner ads scattered throughout the text.

The final stage of the gauntlet hits you when you try to leave the page - one final popup before you go.

As marketers, it's a tough pill to swallow. We want a pristine environment for people to engage with our brand and content. We don't want to spam or chase people away.

But, popups work really well. Hit people with enough asks, and a high percentage of them will respond.

Popups are an extreme example of a principle every business has to learn if they want to engage and build a customer base:
If you want people to do something, you must actually step forward and ask them to do it.

We've devoted quite a bit of space to companies that go just a couple steps beyond what their competitors do.

Here's why you should boldly ask customers for what you want them to do, and how to do so.
We all want customer loyalty.

You can't just outright ask for loyalty, though.

"Dear Todd, we know you like cheeseburgers, but we want you to only buy them from us from now on," isn't going to be received all that well.

You can ask for other things.

An email address and other contact information.
Social follows.
Referrals.
Reviews.
Feedback.
Another purchase.
A lot of those add up to loyalty. They're things customers are happy to do.

They just need you to ask.
The Difference Between Asking and Selling
You'll notice we added "another purchase" onto the bottom of those bullets above. Isn't that more of a sales pitch than something you ask a customer for?
Think of sales as mostly pushing and motivation. You have to use sales to earn the first purchase, or when the customer isn't convinced they're ready for another purchase.

Asking, meanwhile, means the customer is already there. Your customer experience is doing what it's designed to do.

They only need you to invite them to take that next step.

Sales has a place, but that place shrinks the further you move along on the customer lifecycle.

Asking relies on a relationship.
How to Ask Customers to Take Action
We point out that sales and asking are different, because you have to be careful who you ask to take action and when.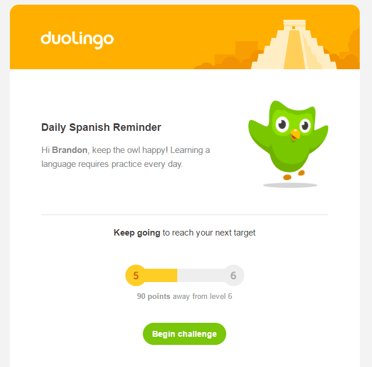 If a customer makes a purchase, and the very next day they receive an email asking for another, it won't go over well. (An exception to this would be a high-frequency business, such as a coffee shop).

You need to understand your business lifecycle and guide people along that cycle.

The subtext to all of this is understanding the customer experience. Why are people giving you their money? What problem are you solving? What giant beast are you helping them slay?

The depth of the problem and the effort it takes to solve it using your product will dictate when you're able to ask for certain things.

That's one of the main reasons we suggest adding a quick win to the front of every sale - prove your value early and earn trust. Your first ask should be for an email address or opt-in to your communications channels, and some sort of reward for doing so.

The earlier you get that first win, the sooner you can begin asking for things.

Then, spend your first efforts getting the customer up to speed. Build their expertise and guide them to the best possible experience with your product.
The further along you go and the more success they find, the more you can ask for.
Your first asks should be for more connections. Ask for social network follows and point customers toward any user groups or online forums that allow you to reach them. Then work your way toward online reviews and referrals. Sprinkle in some surveys and feedback requests.

Then, when the time is right, let them know it's time to purchase again.
No Two Customers are the Same
The timing of the asks is up to your product lifecycle. The boldness is up to you.

Of course, this isn't a straightforward template that will apply to every customer. Customer engagement is messy and people have different expectations for how they want to interact with a company.

That's why we say the most essential step is the first - open the lines of communication. If something goes haywire early, you want to hear about it.

If a customer isn't getting it, you need to know. That's not someone you want to ask for a referral.
How To Get Customers to do Anything You Ask
Thinking back to those popular online marketing blogs, why do they continue to be so popular despite assaulting people with ads?

Because most of them have really good content. It's worth it to fight through those ads so you can get to the list of "200 PPC Hacks No One Else Knows."

And that's what all this boils down to. If you solve their problems better than anyone else can, customers will do whatever you ask them to do.

But you have to ask. Don't expect them to give you a referral on their own goodwill. They might, but they're far more likely to do so if you specifically ask.

Hopefully a gauntlet of popups isn't the path you take. If so, good luck, and good on you for giving it a shot.
Topics: Customer Engagement
Brandon is a former writer and marketer for Access Development. He's a frequent blogger on customer and employee engagement & loyalty, consumer trends, and branding. Connect with him on LinkedIn or Twitter at @bscarter