Kendra Lusty
Member Engagement: 5 Strategies for Positive Engagement through Hardship
In March, I set up a Zoom meeting with my family for the first time in my life.
Between loud kids of all ages, varied internet speeds, my screen mysteriously turning me green, and my dear, sweet grandma's hearing aid issues...
It was 5% awesome and 95% chaotic nonsense.
So, only a little higher percentage chaotic nonsense than a typical family gathering.
I kid, I kid. Connecting with my family is always revitalizing. Over the years, we've had many reasons why we couldn't physically meet. Siblings found jobs out of state, illnesses cancelled plans, etc. And of course, recently everyone was encouraged to forego proximity to loved ones for an extended amount of time.
And always, we find it well worth the effort to keep in contact in any way we can.
Businesses are not so different.
A customer may purchase a product, or a member may try out a membership based on a one-time need. But the thing that keeps them coming back over and over again is real human connection.
So staying in contact with members is just as important, maybe even more important, when lines of communication are altered.
No matter what the membership climate looks like, the way in which you communicate and connect with your constituents can determine if they'll be yours for a day, or yours forever.
Member Engagement Begins with Emotional Connection
While 84% of members surveyed reported feeling satisfied with their membership, only 55% said they felt a connection with the organization.
Why is there a gap of nearly 30%?
Most likely, it's because fostering a deep emotional connection is hard. This kind of relationship requires a business to invest a similar amount of dedication and emotional energy, too. However, businesses everywhere are learning just how much they can profit from the higher levels of engagement.
For example, members with an emotional connection to a business have a 306% higher lifetime value. They promote brands among family and friends (80% of emotionally engaged consumers) and think of brands they are loyal to first when they have a need (86% of consumers).
True emotional engagement goes deeper than repeat purchases and renewals. When a member encounters hardship or difficulty, will they see your organization as an essential partner in finding a solution, or another drain on an already stretched budget?
Hardship of any kind, shared or personal, business or member, can disrupt established connections and make them harder to form in the first place. The same holds true for any breakdown in your normal means of communication or messaging. Yet it's also the time when connection is needed the most.
Communicating with Members: Stay Creative and Adapt
One beautiful thing that emerged from lockdown is the creativity of people as they tried to stay connected with others. You've probably seen the heartwarming news stories and YouTube videos as people lined streets for welcome home parades, held posters up outside windows, and in one instance, reunited the original cast of Hamilton for a girl disappointed that her show was cancelled.
Worldwide lockdowns certainly disrupted communications between businesses and their constituents, too. Conferences, a great way for organizations to meet face-to-face with their members, were cancelled. Reduced or constrained workforces also paused many typical outreach efforts.
We can't really predict when setbacks widespread (like this pandemic) or focused (like a technology glitch) will come along and make effective communication difficult. And it might feel like each is a huge step backward in maintaining relationships that took a long time to build. But when hardships arise, perhaps it's time for organizations to get creative, too.
Here are a few ideas to help inspire you to continue having positive interactions with your members:
Share your own story
People connect with other people more readily than they connect with businesses or brands. Meeting face-to-face may be the most obvious way to interact, but this is not always possible.
Fortunately, there are other ways, and the first step is always to reveal the people behind the business. For some, this could mean sharing human stories, as giving a piece of yourself helps others be more open, too.
For some this could mean putting a face to the organization by appointing a spokesperson. Seeing as how people are increasingly consuming content via video, your spokesperson could use video to give your organization a personality your members can connect with.
Though even steps as simple as having your emails come from an employee name instead of your organization name can deepen a relationship.
Be Open about Important Issues
In times of uncertainty, members appreciate any information you can provide. Sprout Social reported that when a brand has a history of transparency, 90% of consumers will give them a second chance and 85% will stay through a crisis. Transparency in this case is means that a business is open, clear and honest in their communication with the public. Even disappointing news such as technical issues, publicity gaffes, cancelled benefits, etc. is forgivable when the information comes from you with a sincere apology and a plan to make it right.
Beyond this, members (especially younger generations) increasingly want the businesses they associate with share their values. Weighing in on social issues comes with its own inherent pitfalls. However, when you are genuine and caring, people can feel that you are trying to be part of the solution. For example, 79% of Gen Z would engage with a brand that could help them make a difference.
Thank your Members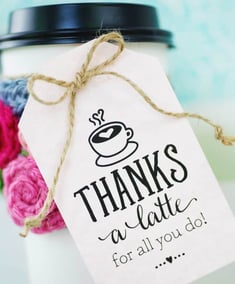 The simple act of hearing the words: "thank you" has been shown to make a person more receptive to continuing a relationship, even a new one. Gratitude has a lot of benefits, and it doesn't take a lot of money to make a big statement.
For example, a handwritten note or a follow-back on social media can help a member feel valued and heard. If you need more ideas, here's a list of 40 inexpensive customer appreciation ideas.
Or, with a little extra investment you can run a "surprise and delight" campaign, which involves sending a thank you gift to certain members. Whether you choose members at random or target your top engaged members, people love to feel your appreciation and often return the favor 10-fold with positive reviews and sharing with friends and family.
Inject an Element of Fun
I don't exactly like the term "brain hack," but there is something to be said for tapping into techniques known to encourage positive mental states. One such strategy that is becoming more popular among businesses is the gamification of member benefits.
Employing gamification principals is a way to add a layer of fun to interactions. Since you want a member's experience with you to be overwhelmingly positive, then it makes sense to turn tasks that might otherwise seem like drudge work, and make them fulfilling.
Your audience can help you determine what game elements will be the most popular. For example, you may have noticed a prize wheel on some websites offering a chance at percentages off of a purchase. Other organizations award points for certain interactions that members can trade in for goodies. Access Development has helped clients run registration contests to great success, leading to increased engagement that lasted for months after the contest ended.
Offer Something with Universal Value
If we've learned one thing, it's that people will stick around when the value they are receiving exceeds the amount of time and money they invest in a membership.
If the value of your offerings is difficult to put a monetary value on, then consider a value-added benefit that easily add up to the cost of membership. For example, many businesses are offering a discount program to their members.
The best discount programs offer deals that will actually get used and loved. For example, you'll want to look for high-value coupons to local, in-store businesses, because that's where people actually spend their money. Some discount programs are full of aggregated or online-only deals, and while the idea of cheap or free discount programs might sound like a good idea, low-value programs can actually do more harm than good.
During lockdown, some clients of Access Development, America's largest discount program provider, found that the value of their core products were temporarily on hold as travel ceased, restaurants closed and members struggled to justify anything but the barest of necessities in their budgets. Those clients were grateful to offer their members the added value of discounts to everyday essentials that they would need to stay home and stay safe.
Keep the Lines of Communication Open
Effective communication is your basis for keeping your relationship with members strong.
And while communication is harder during times of change and uncertainty, it's also more important. It might take deviating from your established means of communication, but focusing on positive interactions. However, focusing on positive interactions will help you continue to foster a deep connection with members that can last through hard times.
Power of Positive Connection Suggested Reading
Topics: Customer Engagement, Discount Programs, Member Benefits, member retention, discount program, member engagement, Membership Organizations, loyalty programs, member loyalty, membership discounts
For over a decade, Kendra Lusty has been a writer for Access Development, and currently focuses her research and writing on topics related to loyalty and engagement.