Brandon Carter
The Access Development 2016 Year in Review
It's hard to believe that another year is already at an end, but the cold weather and snow outside our office are constant reminders that 2017 is just around the corner.
Looking back, 2016 was probably our best year ever. We know, it seems like we say that every year!

But it's true - Access Development experienced more growth and success than ever before. 2016 was just the latest in a steady upward trend for several years in a row now.
So what happened this year that's been so great? Here are just a few highlights from Access' 2016:
New Success
In 2015 we debuted five new products and services to the marketplace. 2016 will be remembered as the year those products began to take flight.
Access Perks, our employee discount program service, had an exciting year with a slew of new clients. Our Perks client roster includes lots of small businesses as well as a handful of enterprise-level employers.
Alumni Access, our alumni association member benefit program, also grew rapidly. Alumni associations from Purdue, West Virginia, Kansas, North Carolina State and Mississippi State were just a few that signed on as clients in 2016.
DealCash (a premium incentive service) and All City Savings (ancillary revenue solution for travel providers) also made waves in their respective industries. Check out this All City Savings case study from an international airline, for example.
Product Improvements
New products didn't get all the love in 2016. We also put in work to meet client and member demands for our existing services.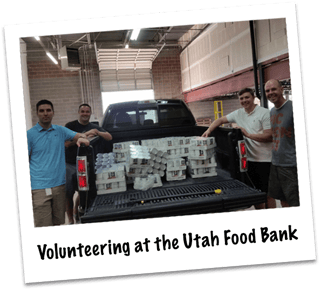 The top of that list, of course, is our merchant discount network. We ran past 350,000 merchant locations on our instant savings network, and surpassed 200,000 on our mobile coupon network.
Those networks got bigger, but we think they also got better in some significant ways.
First, we enabled a custom serialization option to help merchants keep their offers truly private. This opened our network up to a lot of merchants that don't participate in many networks, including Redbox®, Gymboree, and Men's Wearhouse.
Second, we debuted a new iteration of our My Deals Mobile app in June. This new version makes finding the right deal at the right time and place super simple and speedy. To better serve our clients with custom apps and interfaces, we refined our real-time APIs to make sure they get the best, fastest performance also.
Keep an eye on this space in 2017, as we have a lot more in the works to keep our merchant discount networks not just the biggest but the most relevant to consumers throughout the US. Whatever your members are spending on, we're going to be there to help you help them save on it.
New Discoveries
Contributing to Alumni Access' success was a prominent, industry-wide benchmarking survey. That survey generated a ton of participation and discussion in the alumni relations industry - take a look and see what all the hubbub is about here.

That wasn't the only research Access conducted this year. Just last month we debuted a survey showing that over 90% of consumers don't typically travel beyond 20 minutes to make routine purchases. The in-store, local experience is still a critical aspect of consumer living. You can view that research and companion webinar here.

We also discovered a startling figure in the world of employee compensation. The typical American employee is taking home as much as 25% less in compensation since 2006, after you factor in taxes, inflation, and rising health premiums. We covered the data - and what it means for employers - in an article published by TLNT.com in September.
We continued to curate tons of relevant data around coupons, consumer loyalty, and employee engagement on our popular blogs. We even put together summary findings about the latter two on MarketingProfs and TLNT.com.
Expanded Leadership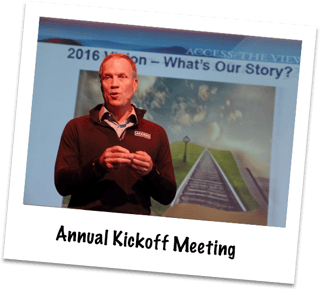 Growing companies need growing leadership, so we took a handful of Access veterans and added them to our executive team. Dave Bona (EVP of Product Development, former VP of Partnership Marketing), Emily Hayes (VP of Customer Success), Tracie Ellis (VP of Partnership Marketing), and Ryan Marvel (VP of Business Development) all bring fresh faces and energy to the table in areas like product development and client success.

As part of this expansion, our founder Larry Maxfield transitioned out of the CEO role, keeping his title as Chairman of the Board. Casey Kleinman stepped into the CEO position, while former EVP of Business and Product Development Kelly Passey moved into Casey's previous role as President.

In some companies C-level leadership transitions are messy conflicts. We're fortunate that ours was planned and executed in a way to bring more leadership to the table.
The best part? Each new appointment has been with our company for over ten years. These folks are Access Development.
Go Team Access!
Of course, none of this would be possible without the hard work of the entire Access family. Every year this group learns more and works harder together to better serve our clients and grow the company.
The people are the best part of Access Development, so it's fitting that we were just named one of Utah's Top Workplaces by the Salt Lake Tribune. It's one of several workplace awards we've received over the years, and our team is the secret to why we retain nearly 100% of our clients year after year.
Our employees don't just work and play hard - they continue to give back as well. Team Access collected nearly 2,500 pounds of food and raised over $4,000 for the needy in Salt Lake City this year.
Onward and Upward to 2017!
We continue to thrive due to an amazing team of employees, smart leadership, engaged clients, generous merchants, and an active industry around us.
And we have no plans on stopping. We expect 2017 to be even bigger and better. We have new services planned, improvements to existing products, and are looking to hire quite a few new team members (you can apply here).
If you're reading this, you're part of our community and our success. Thanks for joining us on this journey!
Happy holidays, and here's to topping all of it in 2017!
Topics: Employee Discount Programs, Mobile Coupons, Member Benefits, Access Development, customer loyalty
Brandon is a former writer and marketer for Access Development. He's a frequent blogger on customer and employee engagement & loyalty, consumer trends, and branding. Connect with him on LinkedIn or Twitter at @bscarter