Ashley Autry
3 of the Most Influential Factors When it Comes to Loyalty
Three things about me...
...I'm a Millennial, median income-earning female.
Why did I tell you this? Because simply knowing my age, salary and gender make it fairly easy to create an instant consumer loyalty profile on me.
Based on the three demographics I fit into, chances are good:
I prefer buying my favorite brands as much as possible.
As long as I'm treated well, you can count on me as a brand advocate.
I have some financial flexibility to purchase my preferred brands regardless of price.
It's important to me the stores, brands and products I shop share a similar ethical code.
I value price.
The right loyalty programs can greatly influence my purchase decisions and loyalty.
In order to keep my loyalty, I need to have a positive shopping and customer service experience.
Ready to find out what your gender, income and age say about your loyalty and the loyalty of your customers/members? Let's take a more in depth look at these three demographics as they relate to loyalty.
1. Age: How do generations differ when it comes to loyalty?
We recently wrote an article comparing data around different factors related to loyalty across generations – From Baby Boomers to Gen-Z: A Multi-Generational Look at Loyalty.
From our research, we determined that as generations grow younger they place more value on the ethical decisions and charitable efforts of brands they are loyal to.
We also found that Baby Boomers, Gen X and Millennials all feel that price is the most important factor when it comes to earning their loyalty. Gen Z; however, felt that quality was the most important.
And it should come as no surprise that our findings told us good customer service is a must for all ages. Plus it was easy to see that loyalty and rewards programs play an important role in the engagement and loyalty of customers/members across all generations.
For a more in depth look at loyalty across ages and generations, we've put together the infographic below for an easy-to-understand, side-by-side comparison (click to view large).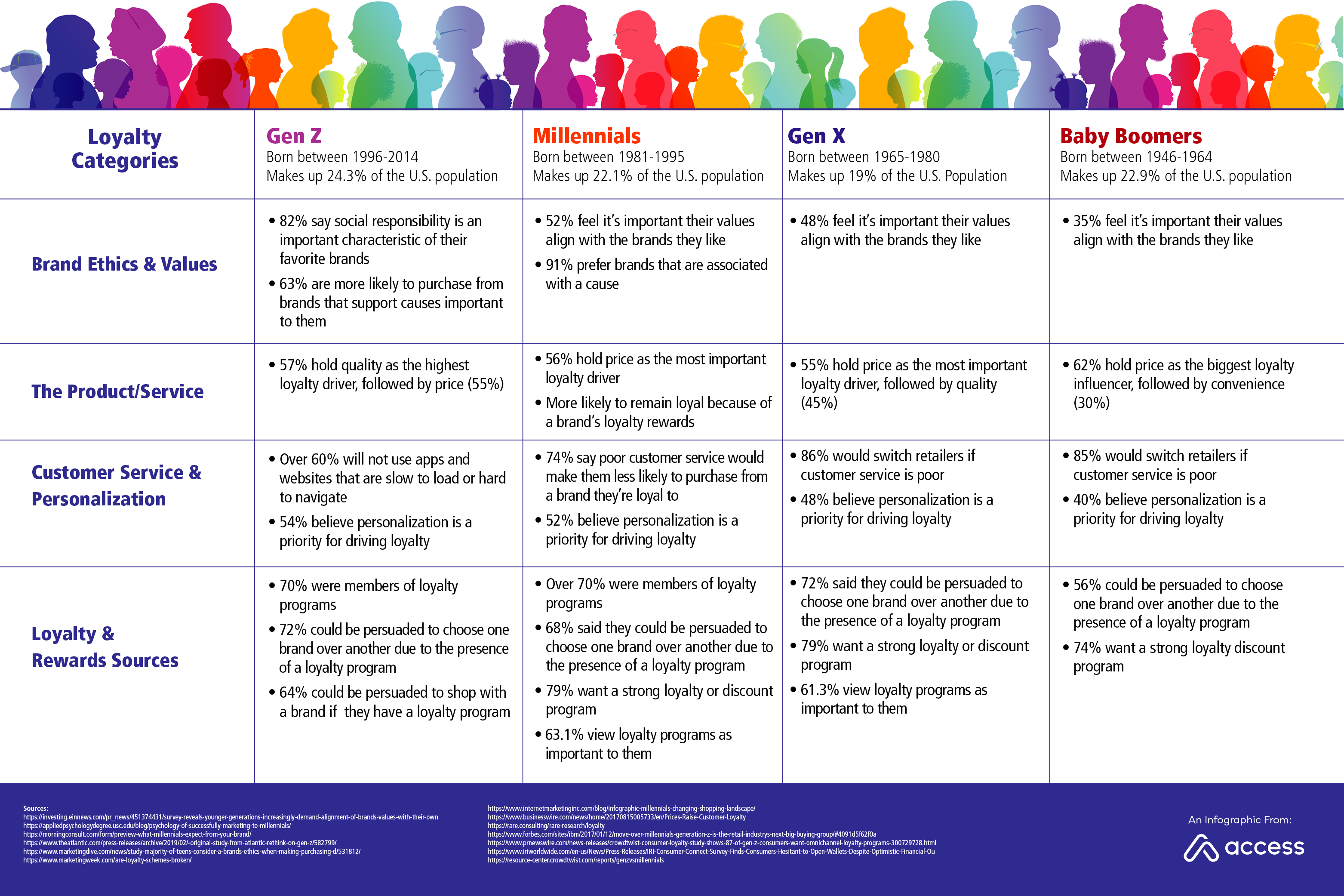 2. Gender: Who's the more loyal sex?
According to research, women tend to be the more loyal of the sexes. Females are 22.19% more likely than men to always buy a specific brand regardless of price, quality, convenience, or brand promise.
Women are also 40.43% more likely than men to engage on social media to earn loyalty points, and 40.38% more likely to be willing to refer a friend to a loyalty program - revealing that women are stronger brand advocates.
Still not convinced women are the more loyal gender? Check out the infographic to compare the loyalty tendencies of men and women (click to view large).
3. Income: Does more money equal more loyal?
One source claims that "Wealthy consumers are more loyal…high-income households exhibit greater loyalty and are influenced more by loyalty programs than average income households. Even more influential than age, gender or geography, household income proved to be most indicative of the strength and impact of customer loyalty."
And we'd have to agree, as 94% of high-income households said their membership in a loyalty, rewards or frequent customer program had a strong to moderate influence on their purchasing decisions, versus 78% of all consumers.
Consumers who are financially stable have more room to make purchases not based on the lowest price, but on their loyalty preferences. Those who don't earn a comfortable living are often forced to buy what they can afford based on price, not what they are loyal to.
The infographic below shows consumer loyalty across different annual income levels (click to view large).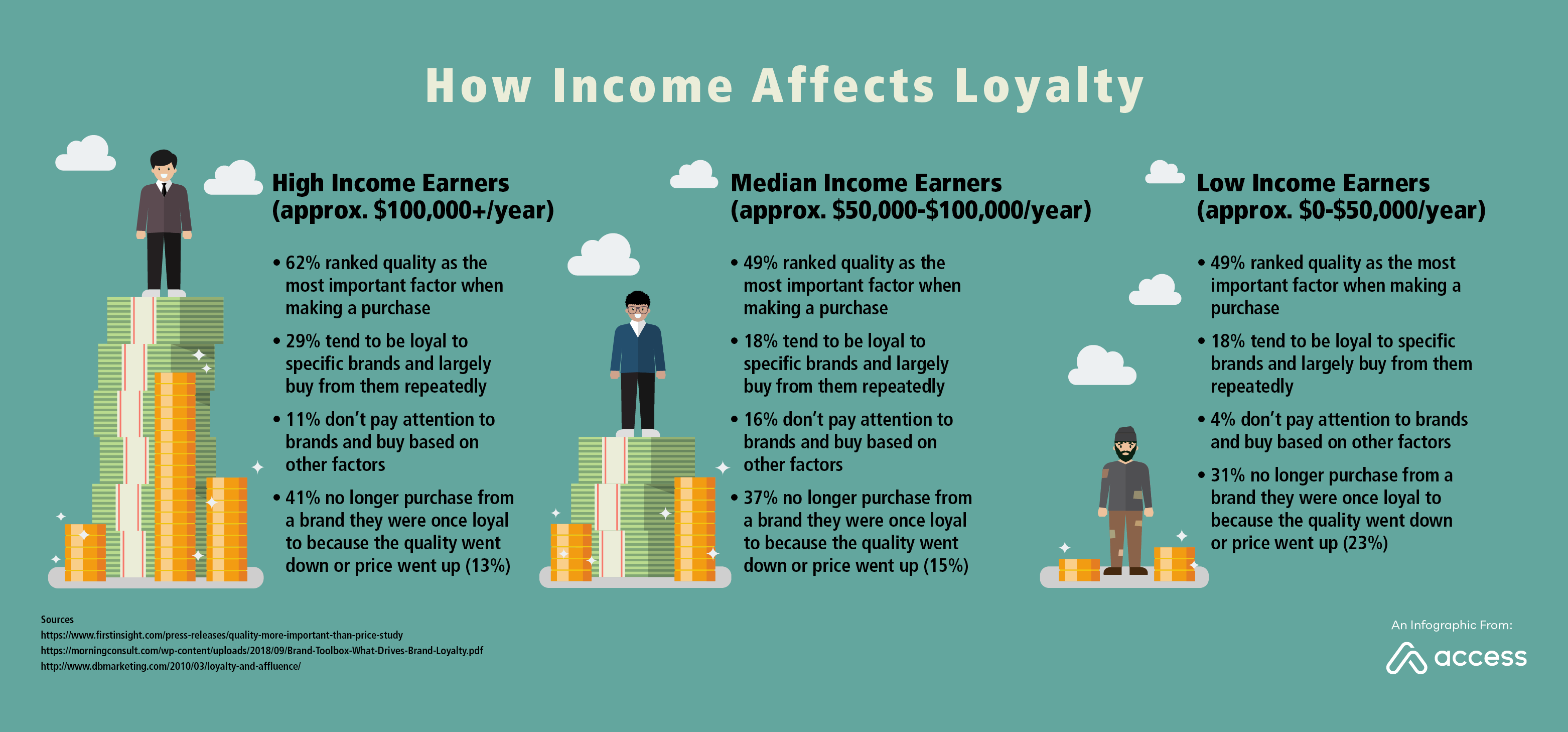 Now What?
Businesses and organizations are continually striving to strengthen relationships with customers and members. It's important to be aware of the demographics you serve in order to better cater to their wants and needs.
The information we've laid out above should help you determine whether or not you're offering the right membership perks or discount program to your constituents. Are you providing them with relevant value in efforts to build stronger engagement and loyalty? This is the question every company/organization should be asking itself.

Topics: Customer Engagement, Member Benefits, member engagement
Ashley Autry is a Marketing Professional at Access Development. She's an expert proofer, gatherer of loyalty stats, research ace, writing queen, and overseer of various marketing projects.