Ashley Autry
Stats Reveal 6 Truths about the Future of Loyalty
Loyalty has always been essential to the success of businesses and organizations. And we don't really see this changing anytime soon.
And yet, while the role of loyalty tends to remain the same in the present, we wondered if today's data might tell us what it will look like tomorrow...or next week...or next year?
Let's start by taking a look at the brands and businesses currently leading the pack in consumer loyalty as of 2018.
Brand Keys recently released its 22nd Annual Loyalty Leaders List, ranking the top 100 (out of 761) brand leaders in loyalty based on consumers' assessment across 84 industry categories. The top spots for successfully holding the loyalty of their customers go to:
Amazon 11. Hyundai
Google 12. Ford
Apple 13. Instagram
Netflix 14. iTunes
Samsung 15. Nike
Facebook 16. Dunkin' Donuts
Trader Joes 17. Avis
WhatsApp 18. Toyota
Domino's 19. Twitter
YouTube 20. Chick-fil-A
So what's the secret sauce these companies have that makes their loyalty game so strong?
Well, you can learn a lot about the future from examining the past and present. So once again, we've dug into our 2018 and 2019 stats to discover six major patterns around what successful loyalty looks like now and in the future.
1. Recruiting Is Great - Retaining Is Better
Many businesses tend to put more of their resources into acquiring new customers, when in reality, retaining loyal customers is a lot more lucrative.
Brands spend up to 11 times more on recruiting new customers than retaining existing ones, even though Loyal customers are 5x as likely to repurchase, 5x as likely to forgive, 4x as likely to refer, and 7x as likely to try a new offering.
And if that's not enough evidence to support our case, loyal customers spend 67% more than new ones.
In other words, we highly encourage focusing on the satisfaction and well-being of the customers you already have. Use a good chunk of your resources to build those relationships, because in the end they'll reap more value.
2. Being Mobile-Friendly Keeps You Relevant & Accessible
The number of mobile phone users in the world was expected to pass the five billion mark this year, with smartphone users forecasted to grow to around 2.5 billion in 2019.
And we only anticipate these numbers continuing to skyrocket with each passing year, meaning…
MOBILE PHONES AREN'T GOING ANYWHERE.
So we might as well accept their ever growing presence in human life and learn how to use them in establishing loyalty with their owners.
82% of customers use their mobile phone while making a decision about purchasing in-store, 90% of millennials prefer smartphones for customer service interactions, and 54% of U.S. loyalty program members said it's frustrating when programs can't be easily accessed on smartphones.
Its evident people are using smartphones for everything. They use them to find coupons, to find new brands and products, for research, to browse and purchase online, when they need to communicate with a customer service representative, to access loyalty programs, and SO MUCH more.
So make sure your customers are set up to have a positive experience in any area of your business via their mobile phones.
3. Customer Service Remains Critical for Happy (and Loyal) Customers
Customer service can be a deal maker or deal breaker.

33% of Americans say they'll consider switching companies after just a single instance of poor service.
Ouch! Talk about unforgiving. Customers expect you to get it right the first time and treat them like they have a choice of where to shop (since, you know, they do).
Shoppers want to fill appreciated, valued and thanked for the choice to spend their hard earned money with you. In fact, one in three customers will even pay more just to receive a higher level of service.
But what constitutes good customer service? 80% of American consumers point to speed, convenience, knowledgeable help, and friendly service as the most important elements of positive customer experience.
We predict the part customer service plays in the role of customer loyalty will continue to be a key constant far into the future, as effective customer service can result in increased consumer spend, brand trust, long-term loyalty, a solid reputation, and word-of-mouth recommendations.
4. Social Responsibility Reveals a Heart Behind the Business

What a brand or business stands for, believes in and supports very much dictates the behavior of its customers and potential customers, as 66% of people think brands should take a public stand on important social values.
If your business ethics and values align with your customers' then congratulations, you're the winner of increased loyalty, spend and recommendations.
52% of consumers feel that whether or not companies are acting sustainably is a key influence on loyalty, 61% would recommend a brand to their friends if it aligns with their social values, and 52% would spend more money with a brand if it shared their values.
People want to have positive associations with the businesses they shop at; 63% of global consumers prefer to purchase products and services from companies that stand for a purpose that reflects their own values and beliefs, and will avoid companies that don't.
Consumers aren't willing to compromise their moral integrity for a p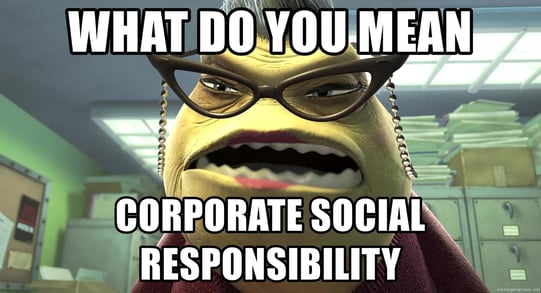 urchase, especially when they can easily to switch to another brand that eases their conscious. This idea is reflected in the success of businesses, as brands with a high sense of purpose have experienced a brand valuation increase of 175% over the past 12 years compared to the median growth rate of 86%.
In short, make sure your business practices are ethical and sustainable, and choose a cause or two to invest in and give back to.
5. Personalization Motivates Engagement
87% of marketers report a measurable lift from their personalization efforts and 93% of businesses with an advanced personalization strategy experienced revenue growth in 2018.
Why you ask?
One article explains it beautifully, "Success lies in creating personalized experiences and delivering them in an authentic manner – spanning marketing, sales and customer service – aimed at resonating deeply with customers so that they feel valued and appreciated."
And if you're still unsure of the influence personalization has on the future growth and success of organizations and businesses, don't take it from us…
Just ask your customers:

6.
Rewards Programs Have the Power to Add Value...If It's Relevant

Earning the loyalty of your customers and members is of great benefit to you. A simple 5% increase in customer loyalty would increase the average profit per customer by 25%-100%.

So what drives loyalty?

78% of consumers said saving money greatly impacts how positively they feel about a brand, 77% say loyalty programs make them more likely to stay with brands, plus discounts and coupons came in as the top-ranking tactic for driving loyalty with 61% of consumers saying they use them.

One of the best ways to earn loyalty is by rewarding your customers/members for doing business with you or being a part of your organization. But you can't just reward them with any ol' thing. It has to be of relevant value to them.

You may be asking yourself, what has relevant value to pretty much everyone?

Saving money.

Yup, try and name one person that wouldn't mind saving a few bucks.

So if you're interested in researching a rewards program for your customers/members, or simply need to re-evaluate the one you have to make sure it's providing real value, check out our article: Five Questions to Ask Your Loyalty Marketing Partner.
Long Live Loyalty

Now let's revisit the question we asked at the beginning…
What's the secret sauce that makes the top ranked companies for customer loyalty so successful?
The data suggests a focus on the following:
Add these ingredients into your loyalty pot, let them simmer, and enjoy the tasty results of success.
To learn more about loyalty and its many facets, read our Ultimate Collection of Loyalty Statistics.
Topics: Customer Engagement, Member Benefits, member engagement
Ashley Autry is a Marketing Professional at Access Development. She's an expert proofer, gatherer of loyalty stats, research ace, writing queen, and overseer of various marketing projects.