Ashley Autry
6 Things You Should Know About Travel Perks as They Relate to Your Members
I'm a self-proclaimed Potterhead (a nickname given to fanatics of the Harry Potter series).
Needless to say, one of my favorite trips as an adult (yes I said adult) was a quick, two day visit to Universal Studios Orlando to finally experience the Wizarding World of Harry Potter.
And it was...
AWESOME!
I got to see Gringotts Bank, eat at the Leaky Cauldron, enjoy a frozen butterbeer, go inside Ollivanders wand shop, ride on the Hogwarts Express and more.
My point? Traveling is an important part of peoples' lives as it creates opportunities for discovery, exploration, shared experiences and lasting memories.
Which brings me to the idea that people love to travel (no surprise there) - all kinds of people in all kinds of ways for all kinds of reasons.
How much do people love to travel you ask?
So much so that we've created an entire stats page around it, Travel and Tourism Statistics: The Ultimate Collection, to help us better understand travelers.
Americans alone took 2.3 billion solo trips for business and leisure purposes in 2017.
Not only do people like to travel, but they spend a significant amount of their hard earned dollars on road trips, vacations, getaways, staycations, etc.
Direct spending by resident and international travelers in the U.S. averaged $2.8 billion a day, $118.2 million an hour, $2.0 million a minute and $32,800 a second in 2017.
Because traveling is such a significant part of people's lives, we've identified 6 things you should know about travel savings as they relate to your members.
1. You have a unique opportunity to help your members save on travel.
We've been talking about how much people (your members) travel, and more importantly the large amounts of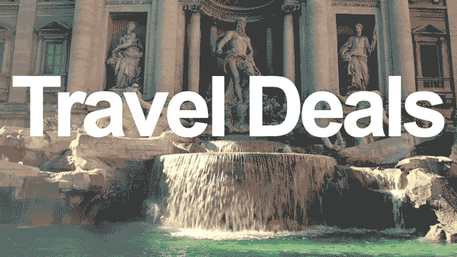 money they spend doing it.
The typical traveler anticipated spending nearly $3,900 on vacations in 2018, Gen X spent up to $5,434 on travel in 2018, Millennials spent up to $6,802 in 2018, and Baby Boomers plan on spending over $6,600 on their 2019 travel.
Why should you care?
You (their employer, association, membership organization etc.) have a unique opportunity to help them get where they want to go and do what they want to do for less.
Pretty cool right?
2. Cost is a determining factor in your members' travel.
Money matters to EVERYONE – especially when it comes to travel. 77% of families said that "best value/price for our budget" was the most important factor when deciding where to stay on vacation, and 47% of millennials say cost is a barrier for why they won't travel. In fact, cost is the number one reason Americans of all ages say they don't travel more.
Don't let cost hold your members back from experiencing more with their travel. By offering a variety of travel perks as part of your loyalty program, you can help members save on hotel stays, car rentals, entertainment, dining, shopping and more.
They'll be grateful to you for helping make all of their destination dreams come true with a price tag they can afford.
3. Members want easily redeemable travel discounts.
When people are offered a slew of exciting travel savings, most will jump at the chance to use them. In fact, it's not uncommon for people to be inspired to travel based on an offer they discover. 74% of people start thinking about a trip after seeing a great deal, and the same percent have made purchase decisions based on travel reward programs.
But your members don't just want any travel deals. They want easily redeemable deals that have value. 92% of travelers cite that ease of redemption gets their attention. So make sure the travel deals you offer are simple, require minim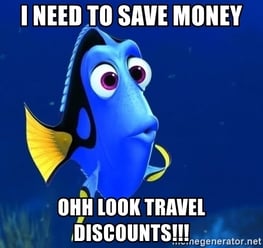 al steps to use, and don't tack on hidden fees at the end of the booking process.
Hidden fees are a huge no-no when it comes to booking travel, as 55% will abandon a purchase due to unexpected costs, and 19% of consumers would skip their plans if they were to encounter added charges when booking with loyalty points.
So whether your member benefits already include travel perks or you're looking at adding them, make sure they are easily redeemable for your members and that all costs are clear and up front.
4. Members want familiar brand options AND local favorites when booking travel.
When I'm traveling, I sometimes prefer to book a hotel I'm familiar with and have previously stayed at. This way I know what to expect, and because of that I feel secure and comfortable. But at the same time, I'm all about seeking out the best local coffee shops (no Starbucks for this girl), restaurants, entertainment and activities.
Many people are like this when it comes to traveling. They want options – national and local. 82% of business travelers and 30% of leisure travelers staying primarily for holiday reasons wished to book with a familiar brand. And for 62% of Americans, experiencing the authentic culture of the place they travel is their top priority.
The takeaway – make sure your travel discounts are loaded with well-known, national brands your members are familiar with as well as popular local options they'll want to visit wherever they may be headed.
5. Travel is more than just hotel stays for your members. They want it all.
Many of the travel perks in loyalty programs are limited to hotels, resorts and car rentals. But what about the dining, recreation, and shopping members want to do while visiting their destination?
26% of American domestic travel expenses go towards food services, 20% towards lodging, 17% towards auto transportation, 10% towards recreation/amusement and 7% towards retail.
We say give the people what they want – a one-stop destination to book hotels and car rentals plus find local recommendations when planning their activities.
6.
People travel all over the world - your travel benefits should reflect this.
There are no limits when it comes to the places people want to go. 39.8% of people travel internationally, 39.5% travel within their home state, and 33.1% travel to a bordering state.
So the question is – assuming you currently offer travel perks, do they support the diverse destination aspirations of your members?
If your answer was no, then we'd encourage you to research loyalty/discount program providers and find one that offers a robust selection of travel perks. You won't regret it, and your members will thank you for it.
Live More for Less
As Hans Christian Andersen once said "To travel is to live."
And we couldn't agree more.
Just think of the game-changing opportunity you have to help your members save in travel – and in everything else they do in life with the exclusive savings a quality loyalty program can provide.
With that said, we've hopefully given you some good things to think about when it comes to engaging and building loyalty with your members through the value of travel savings. If you're interested in learning more about the value of travel discounts, we suggest checking out our article: Going Somewhere? How Access is Transforming Discounts for Travelers.
And from one Potterhead to another, you might be interested to know that Access currently has a deal available for Universal Studios Hollywood (so you can make all of your Hogwarts dreams come true at the Wizarding World of Harry Potter on the west coast 😀).
Topics: Customer Engagement, Member Benefits, member engagement
Ashley Autry is a Marketing Professional at Access Development. She's an expert proofer, gatherer of loyalty stats, research ace, writing queen, and overseer of various marketing projects.