Kendra Lusty
Announcing: Access Website and App Now Available in Five Languages
If you were to look through the mission statements of most membership organizations, one phrase would stand out over and over again: "helping people". Professional associations are all about helping people succeed and advance in their careers. Social clubs seek to help people build community among those with similar interests. And non-profits are the kings of helping people thrive in life.
Therefore, it stands to reason that any member benefits offered by these organizations should help them attain that ultimate goal, too. And yet, it's hard to help people if the benefit isn't accessible to them, especially due to something as fundamental as a language barrier.
In that spirit, Access Development is pleased to announce that members can now browse the discount website and MyDeals mobile app in Spanish, French, Portuguese and Chinese. This comes at the request of businesses seeking member benefits and employee benefits for a diverse base. It's one way Access is making the world's largest discount program available to more people in more places.
Discovering Discounts in your Chosen Language is Easy
For users, selecting a language is quick and intuitive. On the savings website, members can choose from one of five languages via a drop-down menu at the top of the homepage.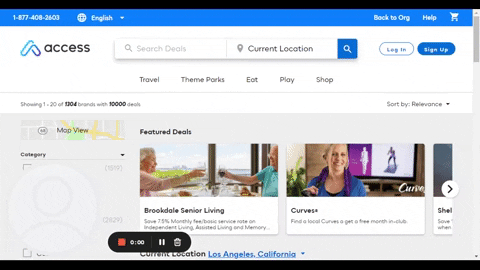 In the app, they can click "More" and then "English" (the default language setting) to discover the alternate language settings. This will allow them to browse and search for travel, restaurant, shopping and more deals in the language most comfortable to them.
Businesses with Diverse Audiences Need Benefits for All
This update opens up new possibilities for organizations that operate on a more global basis. For-profit organizations (i.e., businesses), included.
"We regularly hear requests for language translation from businesses considering an Access partnership," said Kathy McGovern, VP of product at Access Development. "Many US-based businesses will have a small subset of members who speak Spanish, or a French-speaking office in Canada. They're hungry for benefits that deliver a consistent experience for everyone they serve."
Membership organizations are investing more in purchasing translation tools and hiring multilingual employees. Businesses of all kinds have a lot of good reasons to promote their benefits in more than one language including the chance to: compete in foreign markets, serve current members in their native languages, attract locals who don't speak the primary language, and more. In essence, these tools help them reach—and therefore, help—more people.
Unfortunately, it's not always easy to incorporate multilingual communications into websites, apps, emails, ads and printed materials – explaining why multilingual employees and translation services are in higher demand than ever.
At Access, we found it well worth the effort. "Global demand has grown at such a rapid pace we knew we would be cheating more and more members out of valuable saving opportunities if we didn't act right away," said McGovern. "We've already heard positive feedback about how this one change has opened doors and solidified teams."
Learn More About Access
Access Development—a membership benefit provider of the world's largest private discount network—helps businesses of all sizes more fully engage their members, customers and employees. This wouldn't be possible without continued advancement and innovation, all in the name of making sure every member has the tools they need to enjoy the deals they want.
Feel free to contact us if you'd like to learn more about how Access can help you. We are continually innovating, improving products and services to become ever more accessible to a diverse audience. To learn about some of our other recent updates, click on the links below.
Topics: Customer Engagement, Member Benefits
For over a decade, Kendra Lusty has been a writer for Access Development, and currently focuses her research and writing on topics related to loyalty and engagement.