Kendra Lusty
The 2021 Access Development Year in Review
There are 525,600 minutes in a year, and as the popular Broadway song asks: "how do you measure a year?"
As we at Access look back on 2021, perhaps we'd measure it in dollars saved by members, or even better, dollars earned as cash back from travel bookings (there were a lot of those). Or, maybe we should count the number of upgrades and marketing campaigns we executed to improve the member experience.
But if we're being honest, our favorite measure is the sheer amount of goodwill and appreciation reflected back on our clients for the employee and member benefits we're able to provide their constituents.
That's because 2021 was all about developing new and better ways to encourage people to engage more with the businesses they love the most. Of course, this year brought its own set of challenges (inflation, anyone?) but that just allows us to do what we do best: problem-solve with clients. We love collaborating solutions that will help businesses better serve and grow closer to their members, employees, customers and more.
Are you curious how Access measures up? Here are the highlights of our 2021 accomplishments and milestones.
Crazy Travel Demand Drives Record Traffic to the Access Travel Portal
Among the biggest news of the year was the travel industry's huge comeback after a near total shutdown in 2020. We're happy to report that the Access Travel Portal—a seamless platform for booking flights, hotels and car rentals at steep discounts—was more than up for the challenge.
As a reminder, last year the travel industry ground to a screeching halt as COVID-19 restrictions and worries forced many to give up vacations, businesses trips, visits to family and more. And just as experts predicted early on, many consumers made up for it this year, as evidenced by record-setting bookings in 2021. In fact, by mid-year, bookings on flights and hotels through the Access Travel Portal were up 450% over 2020.
Here are a few of the innovations launched in 2021 that show how this popular feature just keeps getting better.
Cash Back Travel Portal Delivers High-Value Rewards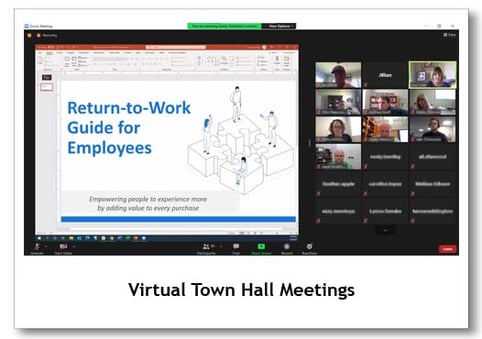 At Access, we recognize the need to reward members with more value (and do it a lot faster) if you want to keep their attention. And in the world of reward programs, people value cash back rewards the most. In 2021, Access created the Cash Back Travel Portal, which merges the desirability of cash back together with the high earning potential of travel bookings.
"Cash speaks to people," said Kelly Passey, president of Access Development. "It is simple to communicate and easy to understand. And, when customers can earn hundreds of dollars back on a single hotel booking, it makes rewards programs very attractive and can drive the loyalty and engagement programs have always sought after."
The Cash Back Travel Portal gives clients more flexibility in how they offer discount travel to members. They can choose deliver the reward as cash delivered automatically within days to the member's account OR as an equivalent amount of rewards currency. It even offers the chance keep a portion of earned rewards to help fund the program.
Travel Portal's Reach Extends Through Partnerships
As travel demand grows to new heights, big travel companies are beginning to see the value of providing a complete, seamless experience: beginning with a smooth booking process and extending to proactive customer service to help ensure their dream vacation doesn't become a nightmare. As a result, multiple travel companies partnered with Access in 2021. They brought their deal-savvy, travel-hungry customers and Access provided them with a loyalty program which delivers all that and more.
One such partnership is with Budget Travel, a company that share's Access' vision for helping everyday people see more of the world for less. Luis Cabrera, chief executive officer of Budget Travel said, "Thanks to an amazing product and an expert team at Access, we now offer a complete, streamlined travel journey – from discovery and inspiration, to trip planning and transaction."
New Theme Park Direct Ticketing Deal Offers More Options for an Orlando Vacation
As of this summer, members have even more options to buy discounted theme park tickets directly through the Access Travel Portal!
Our world class lineup of theme park tickets is among our most popular redemptions. Why? Well, for one thing, who doesn't love theme parks? For another, Access joins them all together in one place featuring deeper discounts and a smoother redemption process to our members.
Tracie Ellis, VP of partnership marketing, is Access' main point of contact with its theme park partners. "These theme parks are very protective of their guests," Ellis said. "You can see it in their meticulous safety precautions against the spread of COVID-19, and you can see it in the way they won't let just anyone sell tickets direct. Our longstanding relationship has allowed us to become one of the most trusted theme park discount providers on the planet."
Product Updates & Marketing Support Enhance the User Experience
Each year, Access strives to deliver the best user experience through product updates that keep up with the latest technology. In 2021, it was our mobile app's turn for a fresh face and a hefty upgrade. Beyond that, we try to make sure members have a great experience by making sure they always know the best deals available so they never miss out.
Mobile App Upgrade Puts Local Deals at Members' Fingertips
Each year, more and more members choose to interface with their discounts via their mobile devices over other channels. Access' comprehensive update aims at making the user experience seamless, simple and even more personalized that ever. Members took notice and responded positively, with early results showing a 20% higher registration rate and five times more redemptions.
To help members find that perfect deal among over a million available discounts, the app now features intuitive mapping with GPS locating, zoom in & out, and filtering. Plus, with the members' permission, the app will alert them via push notification when they travel within proximity of a local merchant with a great deal.
And as always, it still leads the nation as the only true show-your-phone discount app, where you can show a coupon on your phone and save at the point of purchase.
Client Marketing Portal Empowers Clients to Reach Goals
Clients that work hand-in-hand with Access consistently see more engagement. For example, clients that follow our marketing suggestions (which include allowing Access Email Marketing and sharing 7 marketing touches each month) enjoy on average 10x the number of first year registrations and 15x the number of discount redemptions.
Based on the client feedback that emerged from last year's Client Experience Initiative, Access developed several solutions to help busy clients better keep their members informed and engaged. This year, we launched the Client Marketing Portal, a self-serve database of ready-to-use creative assets and marketing support.
"We're putting our 30 years of experience at our clients' fingertips: case studies of successful campaigns, video resources, FAQs and more," said Melissa Garcia, director of product marketing.
Marketing Campaigns Alert Members to Extra Deep Seasonal Deals
Speaking of marketing support, Access ran several special marketing campaigns in 2021 that succeeded in capturing audience attention.
For example, in June and July, the Summer Travel Campaign launched with rock-bottom, limited-time pricing on hotels, car rentals and activities. Even though Access started with the goal of doubling the number of bookings seen at the same time as 2019 (a good benchmark year for normal travel demand), with the help of the emails, banner ads and clients spreading the word, we actually saw more than triple the number of bookings.
"The overwhelmingly positive response to these campaigns demonstrates just how compelling the right message at the right moment can be," said Garcia. "Participating clients are seeing increased engagement and member satisfaction that extends beyond the close of each campaign."
Other campaigns included the Festival of Deals holiday campaign featuring the best deals for favorite holiday gifts PLUS daily giveaways to keep the season even more festive. And because of the huge demand for travel deals, throughout the year, members received Destination Drops, which included extra deep discounts, one destination at a time to popular cities like Las Vegas, Orlando, Cancun, etc.
Employers Recognize the Power of Employee Engagement (and Perks)
Employers have been on a three year roller-coaster ride, from record low unemployment rates to alarmingly high unemployment and back down again. 2021 saw many businesses racing to relearn everything we knew about employee compensation. Some businesses are fighting low morale amidst labor shortages while others are straining against increased turnover rates from the Great Resignation.
It's no wonder then that Access Perks, the employee benefits arm of the business, had a record year.
Access Perks Demand Grows as Solution to Salary Woes
Many businesses are coming to recognize the power of perks that help their employees stretch their budgets further – especially in the face of rising inflation. And Access helps in two ways:
Discounts on everyday necessities (like food, clothing and services) at in-store locations throughout the nation help them save money on the things they have to buy at the places they already shop.
Savings on big purchases can easily reach hundreds of dollars which makes the benefit of employment that much easier to prove. Specifically, Access can help employees save on travel which are mutually beneficial: employee vacations are good for business AND employers can also take advantage—saving big on business travel expenses.
Because of this, employers are coming to Access for employee engagement solutions more than ever before. "When businesses give value to their employees, they get value in return." said Lisa Oyler, HR director at Access. "Engaged employees are more productive, they are better at engaging members and customers, and they're less likely to be wooed away by the competition."
Access Employees Demonstrate the Power of Engaged Employees
To see the power of engaged employees in action, you don't have to look further than Access Development itself. We help businesses engage their members using products and techniques refined within our own walls.
"Our mission at Access is to help businesses build stronger relationships with their constituents." said Oyler. "And that's never more important than when we're talking about an employer's relationship with its employees. Businesses need happy, engaged employees to succeed."
So what does success look like at Access?
Success looks like talented individuals coming together to create and deliver amazing products and services. This comes in one of the most challenging work environments any of us have ever seen. Access employees are thriving in a hybrid work schedule, empowered with work from home techniques and resources for half the week, and enjoying face-to-face collaboration that comes with working in the office the other half of the week.
Success looks like employees actively participating in activities that promote healthy choices, donating time and resources to multiple charitable causes, and sharing their own discount shopping wins with each other.
Success looks like state and national workplace awards that are chosen based primarily on employee feedback. Many of these awards, Access has won multiple years in a row.
Exciting Plans for 2022 Include Continued Focus on Travel and the User Experience
The holidays are a great time to reflect on the past AND plan for the future. Access is closing out a landmark year, one of great growth, and poised to hit 2022 at a run.
Access' travel platform will continue as a top priority. We plan to negotiate even more partnerships with travel providers to give more people the opportunity to save more (or earn cash back) at hotels, and on flights, car rentals and recreation tickets worldwide.
And since deals and discounts are the heart of Access Development, of course we'll continue emphasizing everyday deals in communities nationwide on our quest to be the world's best discount program. You know, the places where people actually spend their disposable income: local restaurants, retailers and service providers.
Not only that, we're redoubling our efforts to make sure all members have the best and safest user experience. This will include platform enhancements for better usability and accessibility for a global audience. It also means safeguarding the security, privacy and integrity of our platform and information systems by improving policies and technology.
At the heart of all these efforts, are our clients, merchant partners and members. If you're reading this, you are also part of our extended family. Thank you so much for your support and your dedication to building profitability the right way: by strengthening relationships, adding value and improving lives.
We wish you and yours the happiest of holidays!
We wish you and yours the happiest of holidays (and happy savings!)
Topics: Employee Discount Programs, Merchant Discount Network, Discount Programs, Member Benefits, Access Development, member engagement, customer loyalty, best places to work, member travel benefits, white label travel platforms
For over a decade, Kendra Lusty has been a writer for Access Development, and currently focuses her research and writing on topics related to loyalty and engagement.