Brandon Carter
The Customer Engagement Learning Library
We produce a ton of content on the topics of customer engagement and loyalty, discount programs, member benefits, rewards and incentives, consumer research and more. To help you sort through it and find what you're looking for, we've created this handy content library.
We hope you find this content useful and pertinent to your never ending quest for better relationships with your customers. Be sure to bookmark this page and check back on occasion, as we're constantly adding new materials!
Free eBooks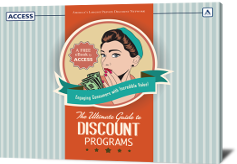 The Ultimate Guide to Discount Programs
Everything you wanted to know about discount programs: how they build engagement, how to build one, how to measure success, and more.
Proximity and Consumer Purchases
How far do people typically travel for routine purchases? Our extensive survey shows it isn't very far.
The New Guide to Earning Customer Engagement
Leveraging value and content to capture engagement and loyalty in a crowded market.
Featured Articles
Infographics
All About Access Development
Topics:
Brandon is a former writer and marketer for Access Development. He's a frequent blogger on customer and employee engagement & loyalty, consumer trends, and branding. Connect with him on LinkedIn or Twitter at @bscarter