Kendra Lusty
2022 Member Benefits Health Check: 4 Essential Upgrades
I'm sure we've all seen at least one viral video of an unsuspecting (or overconfident) person stepping on a fast-running treadmill only to go flying off the back. Even running as fast as they could, the person just wasn't able to keep pace. As long as we know the person isn't injured, the videos are comedy GOLD for all of us Internet voyeurs out there.
However, if you're running a membership program, tasked with strengthening member retention numbers, then you might be a little too familiar with the sensation. Keeping your products and services relevant and top-of-mind can sometimes feel like a footrace with change. Can you stay ahead of changing member needs? Can you keep pace with competing products and messages threatening to woo your members away?
Organizations that fail to keep up probably see a lack of engagement first, followed by increasing levels of churn as their members lose interest, cancel or simply fail to renew. And there's nothing funny about that.
Know What Drives Member Engagement in 2022
Engaging members in 2022 will mean adapting to:
If that's not enough to keeps straight, you also have to make sure the benefit providers you partner with do the same.
In other words, you don't want a benefits provider / partner that's content to deliver the same level of service they did one year, five years, even decades ago. They should also be innovating solutions that help members grow closer to you in troubled times, or at least prevent them from drifting away.
Want to make sure you're growing in the right direction? Want to know if your benefit provider partners care about your members as much as you do? We've identified four criteria you should put to the test in 2022. That way you know you'll be delivering the best value in the safest, securest, and most inclusive manner possible.
4 Features of a Benefits Provider That Cares About Your Members
We've gathered a lot of statistics about member loyalty and the needs of consumers. Some of the most recent interesting statistics include:
At first glance, they seem to be telling different stories, but they work together to paint a world where people care deeply about inclusivity and privacy, and where forward-thinking profits.
Accessibility
Increasingly, people (76% of Gen Z in particular) feel it is very or extremely important for businesses to address the topics of inclusion and diversity. This might look like featuring a diverse cast in advertisements or speaking up on important social topics.
Most importantly, it means making sure products and services are available for an audience of all abilities and needs. This is known as accessibility. While many immediately equate accessibility with wheelchair ramps and handicap parking stalls, it extends far beyond that. Especially in a world where many business interactions take place online, businesses must be aware of how inclusive their websites, apps, software, etc. are. After all, 71% of web users with access needs will simply leave a website that is not accessible. Simple steps like increasing color contrast, adding subtitles to videos and adding descriptive alt text to images can make a big difference to members that need them.
By the way, accessibility upgrades make excellent sense for a business's bottom line too. 71% of companies found that inclusive software improved usability and user experience. Among small businesses surveyed, the vast majority reported little or no cost to make accommodations for employees with disabilities, but 24% said such measures lead to increased profitability.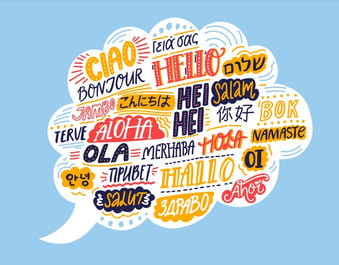 Why stop there? You can expand your reach even further when you aim to serve a global audience. After all, a larger pool of potential member means the opportunity to help more people and improve your reputation to a more globally conscientious audience. That's why the need for multilingual employees, website translation services and accessible benefits has risen sharply in the last few years. Some other considerations include taking into account their access to technology & online services (as slow loading speeds/mobile unfriendly websites can be a barrier) as well as an awareness of cultural differences (which can add to a language barrier).
Online Data Security and Trust
Data breaches are already a major concern for your audience, and will almost certainly continue to grow. As quickly as technology is advancing, cyber threats keep pace.
It's a major concern for businesses that are entrusted by their members with personal data, often including financial information. Data breaches destroy trust: in a recent study, 73% of people said they believe trust in businesses matters more than it did just one year prior. Even more discouraging is the fact that so many have been affected by data theft. 89% of organizations saw at least one successful cyber attack in the year of 2021.
Is it any wonder, then, that consumers have less faith in the companies they do business with? When asked, 41% feel like businesses don't care about the security of their data and 46% feel like they have lost control over their own data.
Depending on where your own systems stand, it may take a few upgrades or a sweeping overhaul to improve your safety standards. It should be a priority for every business. This is true even if you only ask for a name and email address to join (there are over 10 billion email addresses leaked to the dark web). It's especially important if you collect more including: demographic data for segmenting member marketing, financial & payment information, etc.
Successful partnerships with benefit service providers often require the sharing and collection of member data. Many of the best partners will be exclusive (requiring qualified members to log in) and will also be willing to help advertise the benefit (requiring email addresses). Because of the risk involved, most organizations will conduct an IT security audit before sharing their members' data with a service provider. The process is easier and faster if the service provider can provide SOC 2 certification to demonstrate that they have already proven their security capabilities to a neutral third party. Either way, it's important to hold partners to high standards. The last thing you want is for sloppy data management to ruin all the good that can come from a successful partnership.
Innovation
With so many competing membership programs available, it can feel difficult to stand out from the growing crowd.
By fostering a culture of innovation in the workplace, you invite employees to unite in creative problem solving, and grow as they learn to build the solutions. Sometimes you can generate big results from small innovations, like by testing different methods of communicating value. Other times, out thinking the competition is the only way to stay relevant.
Implementing (or inventing) new technology takes time; therefore, businesses that wait to copy the success of others could find themselves years behind. Anticipating future needs takes some forward thinking, but you can gain a big advantage by introducing a solution first, or by providing it faster and better than anyone else. More encouraging still is that fact that current consumers are very open to new ideas. For example, 62% of customers are open to the idea of businesses using AI to improve their experience.
If 2020 taught us anything, it's how hard it is to pivot when major change is thrust suddenly on everyone. Those who are prepared with new processes already in the works, are going to find opportunity in hardship, rather than disaster.
What might innovation in a membership program look like? While you could, you don't necessarily need to invent something to satisfy a new consumer need—like when employers competed to offer the most outrageous perks circa the mid 2010s. Perhaps it looks like combining two popular benefits into one mega-benefit – like combining travel benefits and cash back rewards into cash back travel booking. Or, it could look like small, but ingenious, improvements that add up to the smoothest app function they've ever experienced.
User Experience
CX. MX. UX. What do they all mean? "Customer experience" (CX) and "member experience" (MX) have gotten a lot of attention from businesses lately, and with good reason. These terms describe every interaction an audience has with the brands they frequent. When businesses focus on improving the overall experience — from advertisements, to purchase, to onboarding, to customer service... (you get the idea) — they can solve most of the pain points that prevented full member engagement, and therefore, member retention.
User experience (UX), on the other hand, speaks specifically to a member's interactions with a business via technology. It is one part of the entire member experience, and it should be a focus in 2022.
One effect of 2020 lockdowns was it forced many interactions that used to happen in person over to digital formats. Now in 2022, people are traveling again, they're shopping in stores and attending social functions. However, they're ALSO relying heavily on the digital interactions they've learned over the last two years.
Part of enhancing the user experience is increasing the usability of websites, apps and more. In other words, focus on making your applications easier to learn, more efficient to use, more pleasant to view, etc. When members decide that interacting with your business via technology is pleasant and rewarding, you'll see big rewards too. Every dollar invested in user experience results in a return of $100.
Unfortunately, there's not much room for error when it comes to keeping people engaged with your website and apps: 40% will abandon a website if it takes longer than 3 seconds to load and 90% of users have stopped using an app because of poor performance. On the other hand, 83% of people say a seamless experience across devices is very important.
The need for a seamless experience extends far beyond. At the height of the pandemic, many businesses scrambled to implement digital solutions, leading to a disconnect between service between departments. 58% of customers reported feeling like they were communicating with separate departments and not one company. If you haven't already, 2022 is your year to streamline an omnichannel experience your members can rely on.
Find a Provider Dedicated to Member Engagement
A great member benefits partner can help propel you forward at speeds you couldn't hope to attain on your own. On the other hand, a lackluster one is more likely to weigh you down.
For example, an expansive, relevant, well executed discount program proves its success through heavy usage, which reflects steady stream of goodwill back at the providing organization. (In case you were wondering, the best discount programs accomplish this with deals that are local, relevant, exclusive AND high value.)
Unfortunately, the market is saturated with discount program providers with no interest in innovating, that misuse your member data for their own profit, etc. These kinds of partners damage your hard-won relationship with members.
If you want to make sure your partners are as dedicated to member engagement and success as you are, you need to ask the right question. Ask them about recent innovations, cyber security updates, UX improvements, and accessibility upgrades that are of particular interest to members in 2022. Plus, make sure they are an excellent fit with a list of questions that are always relevant.
Want some more guidance? The member benefits experts at Access Development can answer any questions you have and help you be ready to serve a 2022 audience. Access isn't just talking the talk. We've made huge strides in each of the categories of accessibility, innovation, data security and user experience in the last year, and have many more plans for the year to come.
Also, here are a few more articles to help you on your journey:
Topics: Customer Engagement, Member Benefits
For over a decade, Kendra Lusty has been a writer for Access Development, and currently focuses her research and writing on topics related to loyalty and engagement.